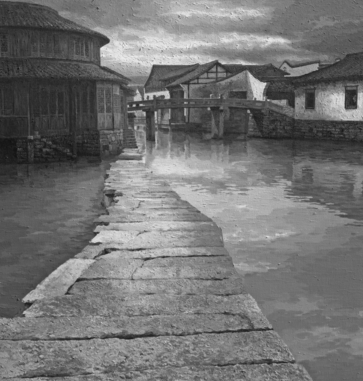 CHINA DAILY
Road in Heart, oil on canvas, by Wang Qijun.
German visitors who love Oriental riverside towns will have the chance to see them on their home soil, thanks to an exhibition of oil paintings by eminent Chinese artist Wang Qijun. The ongoing exhibition continues through March 24 in Berlin, at the invitation of the Chinese Culture Center there.
"All 16 oil paintings on display will feature riverside towns in Jiangnan (a name that describes the areas south of the Yangtze River famous for beautiful scenery)," says the 59-year-old professor at the Central Academy of Fine Arts in Beijing.
Wang will also give a lecture on traditional Chinese residential culture and contemporary Chinese painting.
One of eight culture centers of the Chinese Ministry of Culture in foreign countries, the Chinese Culture Center in Berlin decided last year to host Wang's painting show in line with a survey of the artistic achievements and influence of Chinese artists, according to Xu Zhong'ou, dean of the School of City Design at the CAFA.
Chen Ping, cultural counselor at the Chinese embassy in Germany, and Naren Barfeild, vice-president of Royal Collage of Art in the UK, attended the opening ceremony of Wang's painting exhibition.
A native of Jiangsu province, part of Jiangnan region, Wang has painted riverside towns there for many years.
He once had a thesis, Picturesque Scenes in Dwellings in Jiangnan, published in Art Research, a CAFA publication, to explain why so many painters have shown a strong interest in the riverside towns of Jiangnan. He wrote that they combine the beauty of traditional dwellings and that of river channels.
"Riverside towns have been very affluent since ancient times. So there have been many literati and painters in the region. In the Ming (1368-1644) and Qing dynasties (1644-1911), famous painters from the region accounted for more than half of China's total. Painting their hometowns reflects the spontaneous flow of their powerful feelings," he says.
Last December, the Beijing Poly International Auction Co Ltd auctioned Wang's painting Slow Rowing, which fetched 240,000 yuan ($39,344). The Jilin Fine Arts Press published an album of Wang's works last November, collecting more than 40 oil paintings by Wang in recent years.
"Wang's painting exhibition is expected to boost the cultural exchanges between China and Germany, and enable Germen visitors to understand China's regional culture and traditional dwellings," Xu says.
We recommend: