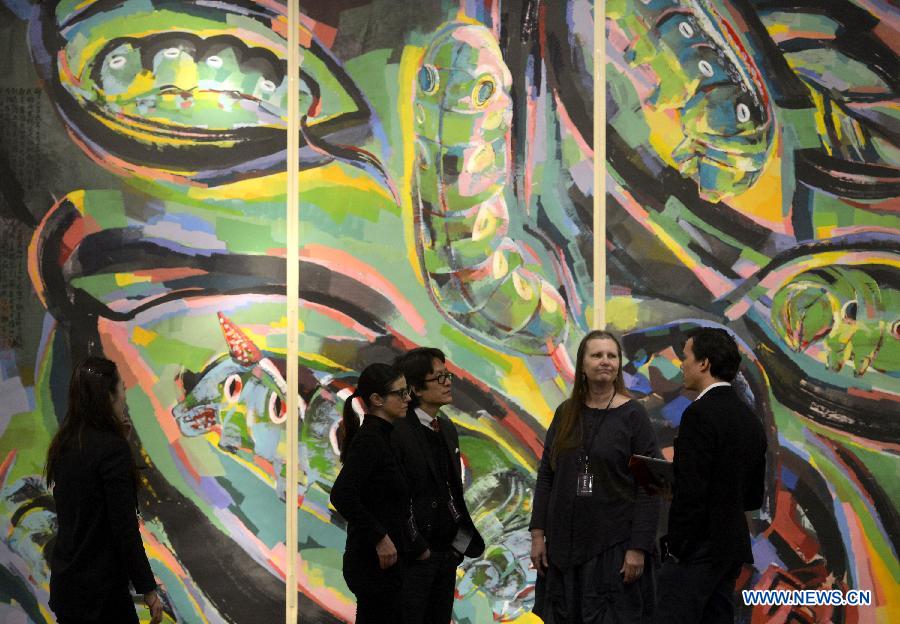 People stand in front of the art of Chinese artist Chen Haiyan during the 2014 Armory Show in New York, the United States, March 5, 2014. The 2014 Armory Show, one of the world's top art events featuring the most influential artworks of the 20th and 21st centuries, kicked off on Wednesday.[Xinhua/Wang Lei]
The 2014 Armory Show devotes a special section to a curated exhibition of contemporary art from China, the organizer said on March. 5, 0214.
Noah Horowitz, executive director of The Armory Show, said that the exhibition dubbed as Armory Focus: "China ultimately aims to demonstrate that China is not just a site for great new art, but a place where current art world models are being made and remade, and where serious collecting is happening at an ever larger scale. "
Philip Tinari, director of Beijing-based The Ullens Center for Contemporary Art, will curate Armory Focus: China, shining new light on the country's contemporary cultural practice.
On lending his curatorial vision to the project, Tinari said " China is central to the makeup of the world system today in ways that are well understood on the level of geopolitics but have not yet been fully elaborated in the realm of culture ... this section aims to change that."
To showcase the diversity of both artistic production and the art system in China, the section will include curated presentations by some 20 artists from diverse generational and regional backgrounds, ranging from the 'Stars' generation of the late 1970s through the booming post-Mao generation born after 1975.
As New York's leading fair for modern and contemporary art, the 16th annual Armory Show opened Wednesday and runs through Monday. A seminal event in the annual New York art calendar, the fair spearheads Armory Arts Week, a city-wide program of cultural events and exhibitions.
we recommend: