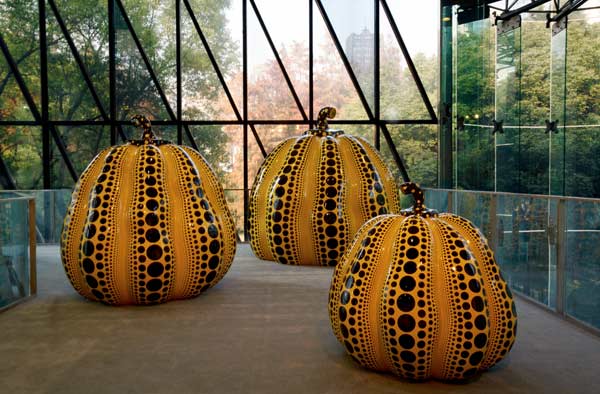 The iconic sculptures of pumpkins by Kusama. Photos provided to China Daily
Yayoi Kusama brings her artworks to China in her first large-scale solo exhibition in the country. Zhang Kun reports in Shanghai.
Veteran Japanese artist Yayoi Kusama's first solo exhibition in China is ongoing at Shanghai Museum of Contemporary Art (MoCA Shanghai).
The 84-year-old artist is famous for her paintings, installations and crossover projects featuring psychedelic colors and repeated patterns, especially polka dots.
Although she didn't come to the opening of her exhibition, A Dream I Dreamed, she sent her message to Chinese audiences through a video clip made for the show, in which she wears her signature red wig, bright makeup and dotted outfit in neon colors. In the video clip, she also apologized for the Japanese invasion of China in the 1940s and the misery invaders caused to other Asian countries.
This is the first time Kusama has held a large-scale solo exhibition in China, featuring more than 100 paintings, prints, sculptures, videos and large installations.