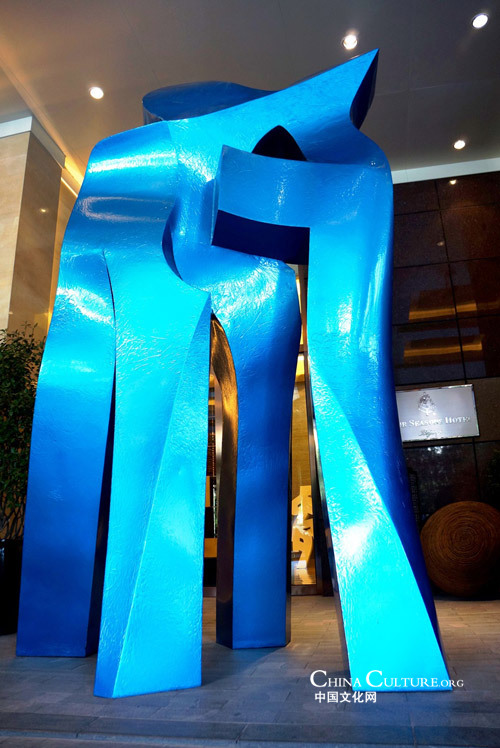 Sculptor Liu Yonggang's innovative Embrace of Love series is on display at the ongoing international "vibrARTion" project which will run through November 6 at Beijing's Four Seasons Hotel.
Acclaimed sculptor Liu Yonggang creates three-dimensional work using stone, bronze and steel, which are unique within the history of Chinese art. From the artist's perspective, his creations of spatial characters do not have a 'pronunciation' or 'meaning,' as they are visual images that possess similarities with Chinese characters. His images stimulate the imagination and the title Embrace of Love conveys support and love through the various postures of his figures, which are suggestive of humans and their body language.
The vibrARTion project is an international initiative which started in China. The project focuses on Chinese texture, and explores the essence of oriental art and philosophy of both traditional and current trends, and centers on various contemporary art forms such as sculpture, installation, video and painting.
The hotel's General Manager, Sanjiv Hulegalle said, "As a window to the city, we want to ensure that whatever we feature inside the hotel is entirely reflective of what is going on outside it. We're indebted to the artists involved who have made the collection what it is and really hope it inspires our guests to further explore Beijing's thriving contemporary art scene."
Time: 7.30pm till 9.30pm till 6th November 2013
Address: Four Seasons Hotel Beijing, 48 Liangmaqiao Road, Chaoyang District, Beijing
We Recommend: