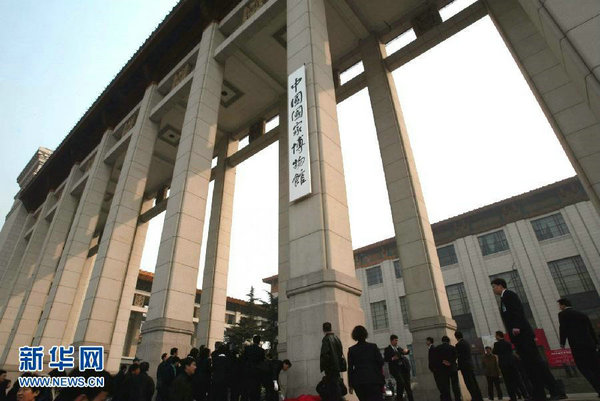 The National Museum of China, file photo.
An exhibition to commemorate the 120th anniversary of the birth of Mao Zedong on Decemeber 26, is slated for opening on Tuesday at the National Museum of China.
The exhibition, called Giant Mao Zedong, is being staged jointly by the National Museum of China and the Central Archives, and features Mao's calligraphy along with paintings and sculptures of the late Chinese leader.
More than a hundred Mao's own art works have been brought together by the Central Archives, as well as sculptures, oil paintings and traditional Chinese paintings by well known artists, depicting Mao's revolutionary life and accomplishments.
Mao's calligraphy depict poems both written by himself and traditional verse, said Chen Lusheng, vice curator of the National Museum of China, adding that the works on show represent "the highest achievements of generations of artists after the founding of the People's Republic of China in 1949."
Mao was born in 1893 in Shaoshan village in central China's Hunan province. He died in 1976 at the age of 83. As one of the founders of the PRC, Mao is one of the most influential figures in China's modern history.
We recommend: