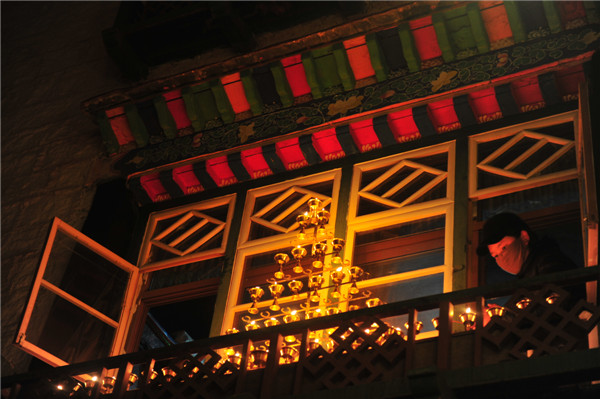 A resident lights butter lamps nearby the Jokhang Temple on Friday night in Lhasa, capital of Southwest China's Tibet autonomous region. (Photo by Palden Nyima/chinadaily.com.cn)
Butter lamps twinkled like stars, and the scent of burning juniper branches filled the evening air in Lhasa Friday as the annual Gadan Ngachod - Butter Lamp Festival - kicked off in the plateau city.
Like most of their fellow Tibetans in Lhasa, Karma Sonam and his family closed their restaurant early this day to get ready to pay tribute to the butter lamps around the ancient Barkhor Bazaar later that evening.
"My family came to the Barkhor Bazaar to worship the displayed butter lamps. I want to commemorate the great miracles of the second Buddha Je Tsongkhapa," he said.
Among the most popular occasions in Southwest China's Tibet autonomous region, the one-day festival is always held on the 25th of the 10th month of the Tibetan calendar.
According to Lukyab Tsering, a researcher at the China Tibetology Researcher Center, the festival dates back to the 15th century, when residents would light butter lamps in honor of nirvana or the enlightenment day of the Gelukpa school founder of Tibetan Buddhism - Je Tsongkhapa.
"Je Tsongkhapa is believed by Tibetan Buddhists to be the second Buddha," he said.
The religious festival has become a particular favorite of monasteries of the Gelukpa school of Tibetan Buddhism.
Key Gelukpa monasteries, such as Gadan, Sera, Drepung and Tashilunpo in the Tibet autonomous region, Kumbum monastery in Qinghai province and Labrang monastery in Gansu province all celebrated this festival on the same day.
The Jokhang Temple in Lhasa is a key pilgrimage center, where hundreds of thousands of pilgrims gathered in prayer to commemorate Je Tsongkhapa.
"Activities during the festival include religious gatherings, blowing holly horns, lighting butter lamps, burning juniper branches and circumnambulating the temples or monasteries," said Damchos Yontan, 40, a monk from the Kumbum Monastery.
Tibetans believe that starting from this day, everyone becomes one year older, according to residents in Lhasa.
Butter sales were brisk with the arrival of the festival in Lhasa, and butter businesswoman Dekyi Drolma was an example.
"My business boomed," she said, adding that she is glad her butter shop is located near the Potala Palace, where many pilgrims pass through.
We Recommend: