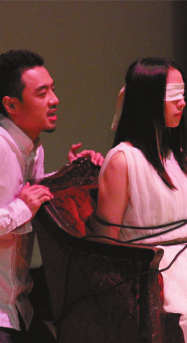 CHINA DAILY
Rhinoceros in Love is staged by Chinese college students in New York.
On a rainy weekday evening, Wang Haichao, producer of the play Rhinoceros in Love, greeted audiences at the entrance of the Asia Society theater in Manhattan as cast members waited to go on stage.
The cast-all Chinese college students in New York from a variety of academic fields including mathematics, business, philosophy, economics, history, accounting, actuary and film-had rehearsed for more than six months for this opening-night performance on Nov 27.
"We all consider this project as something meaningful that we can contribute to the Chinese community in the United States, especially international students like us who make it here from China, "Wang says.
Rhinoceros in Love is one of China's record-setting plays. Originally staged in 1999,the play had its 1,000th performance in Beijing in August 2012,and is still being presented.
The play is about the love story of a rhino feeder, Ma Lu, and his pursuit of his neighbor Ming Ming. The rhinoceros' poor eyesight is used in the story as a metaphor to symbolize the blindness of unrequited love.
Liao Yimei, the original playwright, writes: "Being wise means refraining from doing those impossible, illogical and thankless things. "Yet for Ma Lu, the protagonist in the play, this was a rule that applies to almost everything except for love.
Being a monomaniac in others' eyes, Ma might be considered a rhinoceros among people, an eccentric man, in today's world where everyone knows how to make a wise choice to avoid being hurt or mocked.
"The truth is that without monomania, there would be no breakthroughs, no progress and no new beginnings that you may have never expected, "Liao writes.
Wang says his creative team originally considered several Chinese plays. "Yet the contemporary elements of Rhinoceros in Love especially captured the director, as it also lends much artistic and interpretational freedom while readapting."
This production by Wang and his team differs from the original play; it features more visual effects through video projections and re-modernizing of music.
"The script was also slightly modified to suit the audience of New York Chinese students, "Wang says.
"Here in New York, we have a very dynamic Chinese society. People are able to enjoy various kinds of cultural activities and experiences. But, we don't really have that many people doing Chinese drama, "Wang says, adding that he sees himself as being responsible for putting on a good production for the Chinese community.
As a big fan of films and drama, Wang says his life was "hardly related to art".
"I vowed to work in the financial industry when I was in grade two. I considered it my mission to help excellent Chinese enterprises on financing, "Wang says. "But now I feel investment banking is a lie."
Wang says he is reaching out to explore what he really loves.
"I do believe that the future of China is in its cultural industry, and that's exactly what I am hoping to contribute my lifelong career to. So, basically, this is the first step I can take, "Wang says.
We recommend: