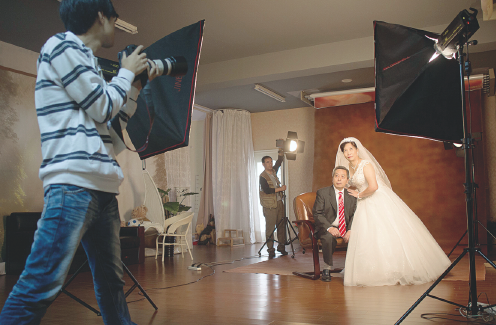 GAO ERQIANG/CHINA DAILY
A couple surnamed Luo takes their 30th wedding anniversary shoot at the People's Photo Studio.
GAO ERQIANG/CHINA DAILY
Gong Lianhong shows a photographic plate of their wedding photos which were taken at the studio three decades ago.
More than 1,000 couples who took their wedding photographs in a studio more than 25 years ago, have been invited to relive their experience. Wu Ni reports in Shanghai.
Shanghai does not lack fancy photo studios competing for young customers with avant-garde fashion styles.
In October, a time-honored and perhaps the city's last State-owned photo studio attempted to give their old customers a chance to relive their life's precious moment.
Couples who are able to show wedding photos they took more than 25 years ago at the studio can enjoy a wedding shoot for free at the 70-year-old People's Photo Studio.
Since the invitation was issued, elderly couples have been crowding the studio.
Du Weihong's hands were shivering as he tried to remove his black-and-white wedding photos from three brown paper bags, marked with the studio's logo. The photos, as well as the bags, were so well kept even though 30 years had passed.
"I will never forget the experience, "says the 58-year-old.
"It was the first time we took photos in a photo studio and it was our wedding shoot! I was very nervous and sweated a lot. I just could not strike the right pose before the camera. The photographer, a tall man, was patient and spent a long time adjusting my pose, "he recalls.
Du paid 20 yuan ($3.28),half of his monthly salary as a worker in the transport industry, for a set of three photos-two of the couple and one of the bride.
"It was a luxury to take photos in the People's Photo Studio at that time. For commoners like us, taking wedding photos is the only time we splurge our money, "he says.
ZhangJianjun, vice-general manager of the studio, has been working at the company for more than 40 years and was proud to talk about its past glory.
The studio, initially named Qiaoqi Photo Studio, was set up by a Russian merchant in 1940 and was sold to one of the studio's Chinese employees when the merchant returned to his home country in 1949.
It was famous for its European-style decoration, the skilled photographers and the techniques of dyeing the black-and-white photos into colorful ones that look like oil paintings. The city's elites and celebrities were among its guests. Among them were the Rong's family, an influential financial and industrial empire in China whose business ranged from cotton yarn to finance.
In the 1950s, China's individual private businesses were sold to the State or converted into joint public-private companies based on the principle of establishing a planned economy. The photo studio became State-owned and was renamed as People's Photo Studio on Oct 1,1959,the 10th anniversary of the founding of People's Republic of China.
"There were many photo studios in Shanghai but the People's Photo Studio was the most expensive one because we had some renowned photographers and we were famous for Shanghai-flavor photography, "Zhang says.
However, as private photo studios from Taiwan sprung up in the city in the 1990s and digital cameras were mastered by many, the People's Photo Studio gradually lost its popularity. In 2010,it had to move out from its longtime location on Huaihai Road, the downtown commercial street boasting grand shopping malls and luxurious brands.
The new location was down a lane in a residential community on Julu Road. Old residents basked under sunshine, with colorful laundry drying overhead on bamboo poles. There were no more big posters or shop windows, only a small signboard hung at the entrance of the alley.
"Many of our old customers did not know the studio moved and thought it shut down for good," Zhang says.
He reveals that the idea to provide free shoots for its old customers was inspired by a call last year.
"An old woman speaking in Shanghai dialect called and asked whether it was the People's Photo Studio. She asked every detail including the former name and address of the studio and finally believed it was the same one she took photos in decades ago, "he recalls.
The woman was a 90-year-old Shanghai native who now lives in the United States, Zhang says. Her family photo, silver and golden wedding anniversary photos were all taken at the People's Photo Studio. In 2012,she returned to Shanghai and wished to take a family photo again at the studio, only to find it was no longer on Huaihai Road.
More than 1,000 old couples have registered for the free-shoot since the promotion was made public.
Among the couples was a pair wanting to mark their golden wedding anniversary.
"They wore Western suits and wedding gowns when they took the photos 50 years ago. But during the 'cultural revolution' (1966-76),the dress was seen as a taboo representing bourgeois lifestyle. They had to destroy the photos. Now they want to regain what they have lost, "he says.
For Gong Lianhong and his wife, the opportunity to retake their wedding photos was a surreal family experience. Their 28-year-old son was part of the photo shoot.
"We had planned to take photos here again as this year is our 30th wedding anniversary, "he says.
"We took our wedding photo in 1983.I remember there was a barber shop next to the photo studio. My wife permed her hair before we walked into the studio. I was so happy that day, I had a very big smile while taking the photos, which made my eyes look small on the photo. So we came here again for a second shoot, "he recalls.
His son is now planning his wedding. Gong hopes his son will also take his wedding photos at the studio.
Zhang the vice-general manager hopes the promotion will trigger more people to think about the meaning of marriage.
"China has seen turbulent days over the past decades. Most old couples experienced hard lives but they overcame difficulties together. That's why they treasure their marriage and have the chance to come back for the photo shoot."
Contact the writer at wuni@chinadaily.com.cn.
We recommend: