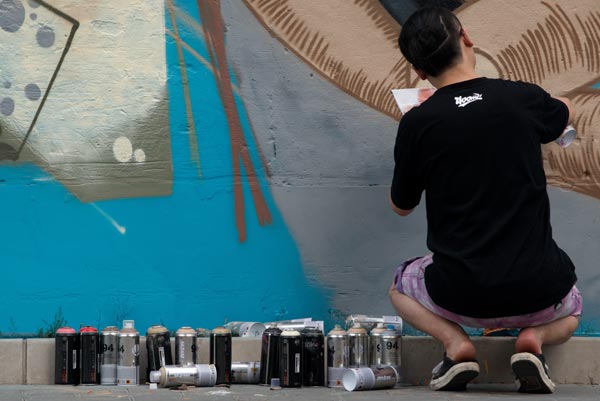 A graffiti artist works on an unfinished project on the wall of a back alley in Beijing.Wei Xiaohao / China Daily
Since then, Ye has worked with companies, such as Nike and Audi. Ye now plans to work with Beijing's CBD area to create graffiti art amid office buildings.
He is excited by the news that a section of the Great Wall in the popular tourist destination of Mutianyu has been flagged to become a dedicated graffiti zone.
Zhang Tongcai, an official from the management office of Mutianyu Great Wall, says the intention is to protect the ancient bricks rather than encouraging graffiti, but Ye says he and his team intend to create some art work specifically for the area.
Zhang says 2.8 million tourists visit the Mutianyu Great Wall every year, and 40 percent are foreigners.
"Graffiti has been controversial because the line between art and vandalism is blurred. There is no law on graffiti in China so people feel free to paint wherever they want," says Liu Zheng, a graffiti artist of Kwan Yin Clan, a group founded by Liu in 2006 along with several other young people in Beijing.
Liu, 29, who studied visual design, was a rapper in the university. He created his first graffiti on the walls outside Sihui subway station in Beijing in 2006, which he described as "dropping a bomb".
"I used to paint at night and quickly or I would be stopped by police," Liu recalls.
At first he painted to express himself and to relieve pressure. Now, he says he combines the techniques of traditional Chinese ink painting with graffiti.
Along with members of Kwan Yin Clan, Liu has painted the walls outside Beijing Institute of Technology and Beijing Institute of Fashion Technology, as part of a project commissioned by the government during the 2008 Beijing Olympic Games.
"To me, the attraction of graffiti is the beautiful color and lines. The more I paint, the more I realize that it's about culture and society," Liu says.
"People's attitude toward graffiti has started to change because they can appreciate it in advertising and on TV. It's not something secretive any more."