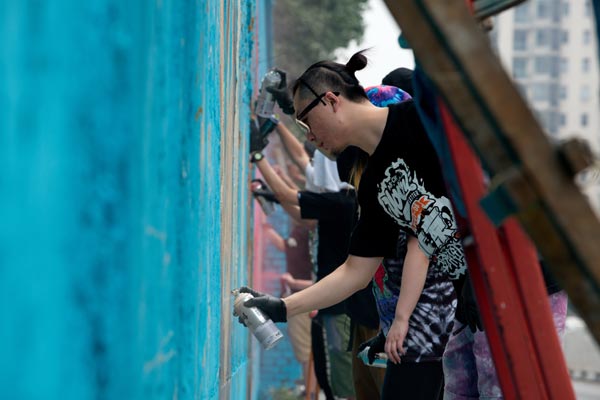 Artists of graffiti group ABS Crew cooperate to paint a wall in Beijing. Wei Xiaohao / China Daily
In 2010, along with the other members of ABS Crew, a graffiti group which Ye founded in 2007, he opened a studio in Beijing's 798 Art Zone, a popular hub showcasing contemporary Chinese art.
Two years later, he opened a store next to the studio, selling products such as spray paint and T-shirts featuring his art.
This summer, Ye will launch a hip-hop summer camp in cooperation with the French embassy in Beijing, presenting various street culture events, like break dancing and graffiti.
"Graffiti has been recognized today, but has a niche market. Even today some people still cannot understand what we are doing," he says.
In 2004, when Ye was a student of art design at a university in Tianjin, he watched Jackie Chan's Rumble in the Bronx. He was fascinated by the graffiti scene and bought a can of spray paint from a hardware store and painted his name on a wall at the university.
"I felt so excited to see my name on the wall because the visual impact was so strong," he recalls. However, his teachers and classmates were less impressed, accusing him of vandalism.
The first public graffiti that Ye's ABS Crew undertook was to spray paint a six-story building in Tianjin. The work was commissioned by the local government for a music themed street outside Tianjin's Conservatory of Music.