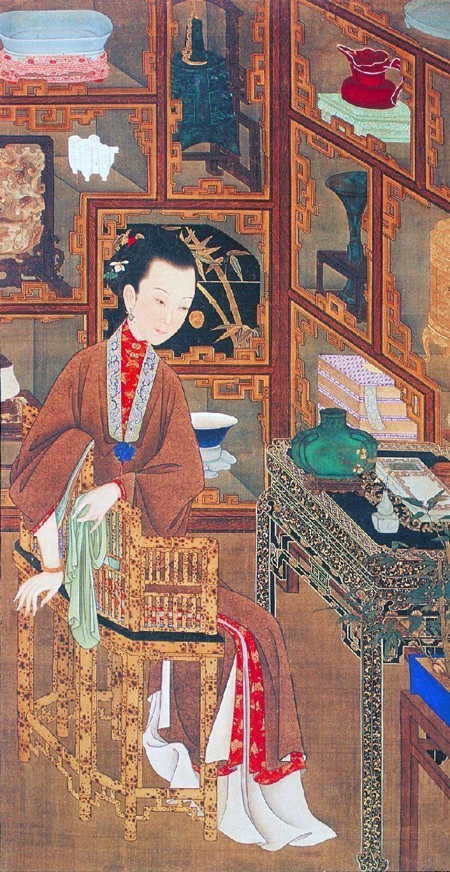 Ru Kiln cup holder seen in one of the 12 Beauties paintings by court painters of the Qing Dynasty.
The air bubbles show difference
This conclusion is seconded by a former director of the National Museum of Korea and a celebrated Korean celadon expert, Chung Yang-mo, who came to Beijing specifically to get a look at the cup holder.
The 82-year-old Chung, who has excavated hundreds of pieces of Korean celadon ware, comments, "Although porcelain making was introduced to Korea during the Five Dynasties and Ten Kingdoms period (AD 907-979), there are some techniques for cup holders of this kind that Korean celadon makers never learned."
The first discrepancy is the petal flange, which is almost horizontal, while similar flanges on Korean celadon are upturned at the edge, otherwise the flange would collapse during the firing process, he explains.
Second, Korean celadon contains more ferrum, which oozes through during the firing to add redness to the color. This cup holder on the other hand is a grayish green.
What is more important, however, are the air bubbles. In the Korean celadon glaze, they are mixed together in different sizes. But this cup holder has very even air bubbles that are distributed like pearls.
"That's why it's so lucid and beautiful," Chung continues enthusiastically, adding. "I feel honored just holding it."
Adding support to this is Choi Kun, the former director of the Gyeonggi Ceramic Museum in South Korea and a Korean celadon expert who accompanied Chung on the Beijing adventure, and who explains, "The porcelain body is more exquisite and was fired at a higher temperature."
The two specialists also point out that the copper inlay technique has to be Chinese because it had not been mastered by the Korean craftsmen of the time.
Lu Chenglong, the Beijing Palace Museum's Ancient Ceramics Department head, says the copper inlay was probably done much later by the Japanese, considering that the auction item is from a Japanese collector. He then speculates, "It's possible that the copper was inlaid to cover chipped areas on the upper edge, or to prevent chipping."
Nonetheless, he is quite certain that this ware is a product of the Ru Kiln at the Qing-liang Temple.
 We recommend: