Ru Kiln's rare works
The Ru Kiln was situated in what is today's Henan province and was the producer of porcelain for the imperial court during the late Northern Song Dynasty (960-1127), and famed for its glittering, exquisite celadon finish.
Curiously, the kiln only operated for 20 years, but, obviously, it is exactly this short existence that makes its products so dear. Today there are only about 80 pieces of its work in existence, of which a mere five belong to private collectors.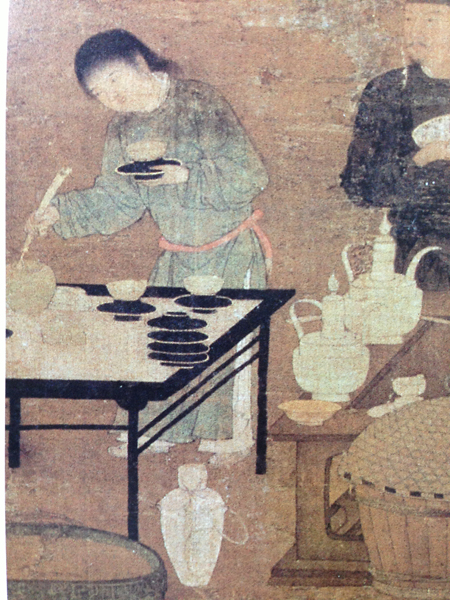 One section of The Scholar Meeting (Wen Hui Tu), painted by the Huizong emperor of the Song Dynasty, now in the collection of Taipei's Palace Museum.
The cup holder is a stand for various types of tea cups, and many kilns, including the five major ones, used to make these.
One example can be seen on The Scholar Meeting (Wen Hui Tu), painted by the Huizong emperor (1082-1135) of the Song Dynasty, now in Taipei's Palace Museum. It shows a scene of a tea forum, where the white tea bowls are clearly supported by black porcelain stands from the Ding Kiln.
However, the type of Northern-Song flower-shaped cup holder from the Ru Kiln is a rare item, Mao says, and the only one even remotely similar to the auctioned one belongs to the Sir Percival David Foundation of Chinese Art, in the UK, in a permanent British Museum exhibition.
Mao says he believes the two cup holders are brothers, or sisters, from the same kiln — the Ru Kiln, in the village of the Qingliang Temple, Henan province.
His reasoning has been supported by science, in this case X-ray fluorescence, which showed that it tallied with porcelain samples from the ruins of the Qingliang Temple kiln.
Similar methods also suggest a marked difference between this ware and Korean celadon, where the amounts of ferrum, silicon, and potassium are markedly higher than those of this cup holder, indicating that they use two different kinds of materials.
 We recommend: