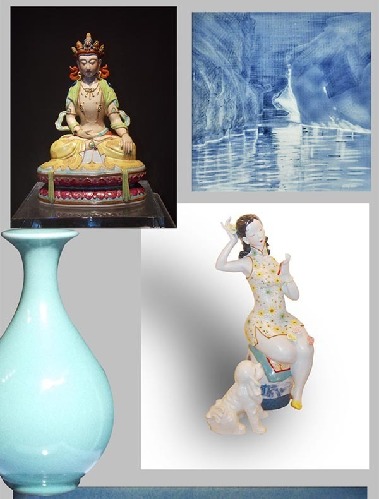 Today there is a lot of porcelain with superb but superficial technique, and no soul.
"Ancient Chinese royal power once pushed porcelain art to its incomparable pinnacle that has not been surpassed," says Hong Ming, organizer of a new, 600-piece exhibition by famous names and emerging talents in porcelain art. "Frankly speaking, porcelain art in China today is like a fallow field, it needs more time and patience to flourish again."
The ongoing exhibition titled "Chime of China" at the Shanghai Library aims to provide a platform for young porcelain artists and inspire the public with the possibilities of porcelain. The show contains vessels, sculpture and painting on porcelain "canvases."
Large-scale porcelain exhibitions are rare, especially those including big names such as Wang Xiliang, Liu Zheng and Gan Daofu.
"In my view, a quality piece of porcelain is a combination of raw materials, techniques, shape and painting. It is a combination of technique and art, but at this time the element of technique is over-emphasized. This is not the right direction for the future of china," Zhong says.
Zhong's family makes porcelain in Jingdezhen, the "cradle" of China's porcelain ware, but after studying the heritage of China's imperial kilns, Zhong was bored by all the similar contemporary works that are being turned out today.