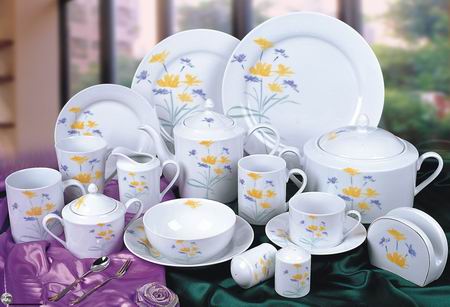 The 2012 International Ceramic Expo will open on Oct. 18-22 in Jingdezhen, China's ceramic capital, attracting thousands of porcelain makers and traders from across the globe, according to local government.
More than 1,700 exhibition booths will be set up to display domestic ceramics, ceramic artwork, domestic and global brand names, high-tech porcelain as well as ceramics of China, Japan and the Republic of Korea.
A symposium on performance testing and evaluation techniques of inorganic materials will be held for the first time at the annual event launched eight years ago, said a spokesman of the city government on Sunday.
Jingdezhen in east China's Jiangxi Province is the most famous Chinese porcelain-making center, with more than 1,600 years of making artistic ceramic pieces using sophisticated technologies.
More than 1.5 million people from 49 countries and regions have visited previous events over the past eight years, generating 4.571 billion yuan (about 725 million U.S. dollars) in aggregate domestic trade, and 776 million U.S. dollars in foreign trade, the spokesman said.
The International Ceramic Expo is organized jointly by the Ministry of Commerce, the China Federation of Light Industries, the China Council for the Promotion of International Trade, and the Jiangxi Provincial Government.
(Xinhua)