Lu briefly reviewed the history of modern and contemporary Chinese writing.
"Most of the pioneers who contributed to modern Chinese literature were translators themselves," Lu said, adding that he believes this shows Chinese literature has had positive interaction with the world during the modern era.
He introduced the features of Chinese poetry and drama, as well as flourishing online literature.
Lu also emphasized recent works by Chinese literary masters like Nobel Prize winner Mo Yan and Jia Pingwa, hoping his introduction will reveal a fuller picture to the sinologists.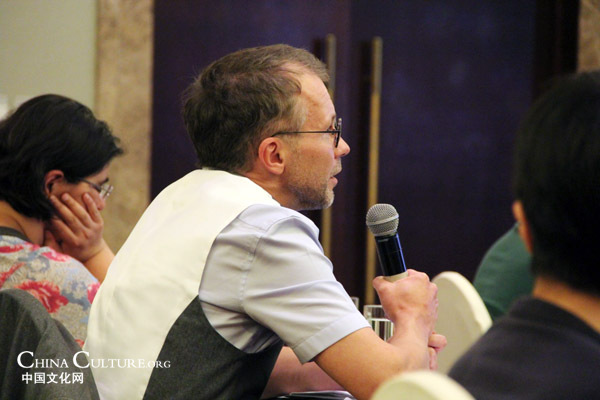 A sinologist speaks to the Chinese lecturer during the program. [Photo by Mei Jia/China Daily]
Our Jingke is Mo's drama, which was published after his Nobel win in 2012. Dai Deng is Jia's recent novel about social equality from the perspective of a grassroots female cadre.
To the question that interests the sinologists most - how to choose a book to work on from numerous publications of Chinese writings - Lu suggested the fame of the creator should not be a criteria.
"Just go to the book that touches you most," Lu said.
We Recommend: