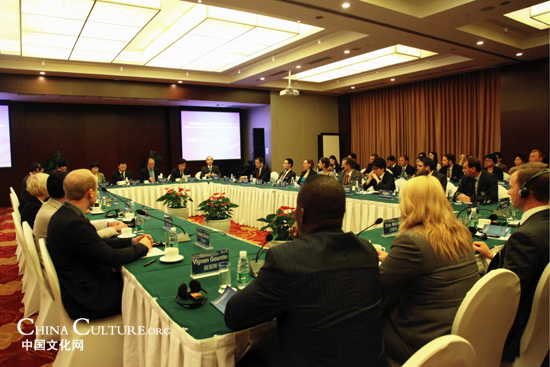 The second session of a visiting program for young sinologists opened in Beijing on Sept 5. [Photo/Chinaculture.org]
The second session of "2014 Visiting Program for Young Sinologists" opened in Beijing on Sept 5. Ding Wei, vice minister of the Ministry of Culture, attended the program's opening ceremony. Thirty-eight excellent young sinologists from 25 countries such as the US, Russia, the UK, Egypt, India and South Korea were invited to this session. The research topics included Chinese literature, history, philosophy, art, language, politics, modern society and international relations.
Ding Wei welcome the young sinologists attending the program. He said that, with them coming from five continents, the young sinologists were rich in experience in various research areas, so that the program that put a group of young sinologists together was, in itself, of great significance. This program was designed to boost the mutual understanding among different countries, promote the other countries' research on China, and establish a bridge for better exchanges and communication. And it was expected to provide assistance to the young sinologists who would present an objective and authentic China to the whole world.
Jin Baoping, the deputy secretary general of the Chinese Academy of Social Sciences, stated at the opening ceremony that the Chinese Academy of Social Sciences would actively cooperate with the Ministry of Culture, providing help for the young sinologists and setting up a close academic relationship with them.
We Recommend: