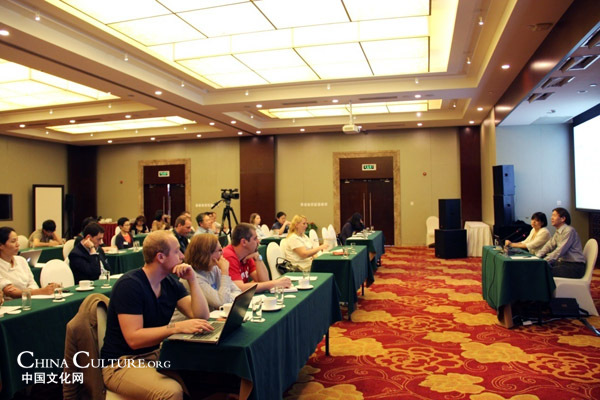 Professor Zheng Hailing speaks to young sinologists on the Visiting Program on the Translation of Contemporary Chinese Works, organized by the Ministry of Culture in Beijing, Sept 12. [Photo by Mei Jia/China Daily]
When Professor Zheng Hailing spoke about the standards of judging translations, many visiting sinologists held up their cameras to capture Zheng's views illustrated in the PowerPoint presentation in Beijing on Friday, Sep 12.
Zheng, who specializes in Chinese literature at the Beijing Normal University, believes that a good literary piece is highly translatable and thus "translatability" (a word cited by Zheng) of a single work shows its literary quality.
The 30 or so sinologists, many who were young foreigners from several different countries, are in China for the three-week program, 2014 Visiting Program for Young Sinologists, which is co-hosted by the Ministry of Culture with the Chinese Academy of Social Sciences and the China Writers Association.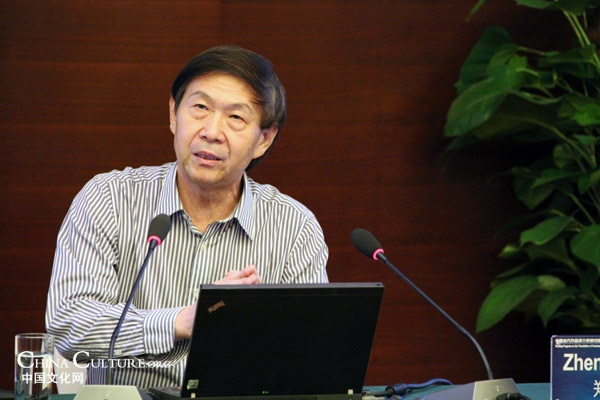 Professor Zheng Hailing of Beijing Normal University lectures about Chinese translation theories. [Photo by Mei Jia/China Daily]
The sinologists showed interest in Zheng's theory as he led them through a lecture about Chinese translation theories and contemporary literary creations.
"Loyalty to the original text is flexible and should not be stiff," Zheng said.
Knowing the role cultural exchanges performs in promoting mutual understanding of international society, the organizers of the program believe translation plays a key role, especially the translation of contemporary Chinese works.
We Recommend: