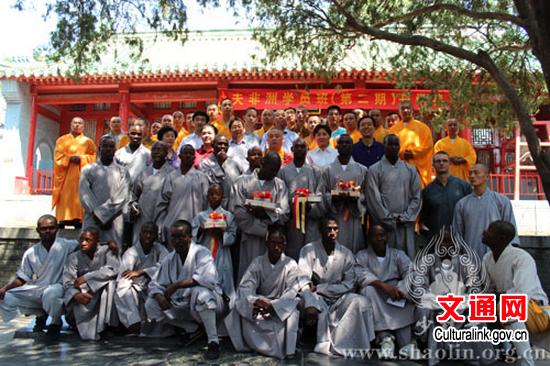 African students learn kung fu at Shaolin Temple in July. [Photo/ Culturalink.org]
Increasing number of africans learning martial arts in China
In the ancient mountain fastness of Shaolin Temple, behind the closed doors of a Buddhist sanctum, Abbot Shi Yongxin holds court from a lacquered wooden chair carved with dragons.
To his left, a trio of warrior monks stands attentively, 1,500 years worth of secret skills and kung fu technique trained into their loose limbs.
There is something of the snake and tiger in their poise and posture, of the crane and the monkey in the way they move.
Amid the trappings of the past in the ornate receiving room, the abbot and his followers seem like throwbacks to China's age of legend, remnants of a bygone era.
The spell is broken by an electronic jingle.
Shi, the 30th spiritual leader of the ancient order, pulls a smartphone out of his robes. He flips it open briefly to scan the screen, grunts and quickly makes the handset disappear again.
The 21st century has come to the famed temple at the heart of Chinese kung fu, bringing with it a new wave of foreign interest, and a growing debate domestically about what this means for the culturally iconic Chan Buddhist institution.
"We pursue a peaceful and simple life," Shi says. "Our ultimate goal is to achieve the enlightenment of Buddha and to help others achieve enlightenment."
But enlightenment isn't always free at Shaolin Temple, not that this matters to a new breed of acolyte prepared to pay for the kung fu wisdom the order offers.
They are foreign executives, businesspeople from a diverse range of sectors, and motivated professionals that are dishing out roughly $800 per month to learn and live at Shaolin.
And a growing number of ordinary Africans, many of whom are coming to study at the temple on scholarships funded by Shaolin or the Chinese government, are now taking away the same skills.
While this phenomenon is part of a business model that is helping secure Shaolin's future, some believe it is also part of a malaise that jeopardizes its ties to the past.
Every day, thousands of tourists throng the temple grounds, once a quiet retreat for 13 famous warrior monks who, legend has it, took down a despotic warlord and his army during the Tang Dynasty (618-907).
In their time, much of the mystery surrounding Shaolin pertained to the arcane, the closely guarded mental and physical abilities that approach the mystical in the telling.
These days the temple is still cloaked in secrecy, but that relates largely to a veil of corporate confidentiality maintained by a separate business entity.
CTS Songshan Shaolin Culture Tourism company, which collects an admission fee of 100 yuan ($16) a person to enter the scenic park that people making the temple pilgrimage must pass through, declined to provide China Daily with visitor numbers or annual revenue.
Grizzled masters endure the daily invasion with stoic expressions. Shaven-headed novice monks talk loudly on smartphones, or sell incense and trinkets, or access the Wi-Fi now available in the ancient buildings.
Shaolin-brand medical books are sold on Taobao, China's e-commerce equivalent of Amazon, and Buddhist disciples can now avoid the trek up Songshan mountain by paying to study at Shaolin by correspondence on the Internet. Since 2010, the temple has had an online social media presence on Facebook equivalents such as Sina Weibo, and now boasts more than 150,000 followers.
There is also a gaming app being developed to teach users kung fu on their mobile phones.
Shi, one of the first Chinese monks to gain an MBA, says Shaolin's business interests have been set up to support and preserve its 1,500-year-old culture.
"We have entered a commercialized society, so people tend to evaluate things from the angle of commercialization," Shi says. "But you need to look at what is behind the business practice. Some people do business so they can survive, and some do it seeking fortune. Shaolin Temple just wants to survive, to practice Buddhism."
In March, executives from US tech giants Google and Apple joined the ranks of prominent global businesspeople to have received Shi's wisdom.
Members of the China Entrepreneurs Club, a group that consists of 46 leaders of the country's top private companies, also spoke with the abbot in a closed-door session this year at a conference entitled "self cultivation of entrepreneurs".
These kinds of engagements are part of the reason not everyone is convinced Shaolin's growing commercial interests are entirely altruistic, including outspoken Chinese netizens and some prominent martial arts masters from rival schools.
We Recommend: