South Luogu Lane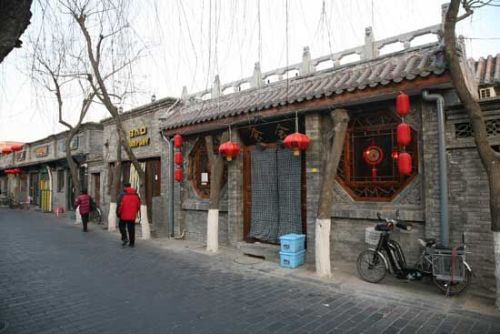 [Photo/163.com]
Address: between East Gulou Street and East Di'anmen Street, Dongcheng District
Built in the Yuan Dynasty, South Luogu Lane still maintains its original layout today. With eight branch lanes lying symmetrically on either side of the 800-meter-long lane, it resembles a centipede if looked at from above. Hence it is known as "Centipede Street" (or Wu Gong Jie in Chinese) as well.
When you open the thick wooden gate, a broad and bright quadrangle will jump into your eyes, with talking, laughter, whispers, warbles surrounding you. Such bars with a plain exterior and an amazing interior can be found all along South Luogu Lane. It just conforms to the quiet atmosphere here.
Besides bars, you can also find nostalgic business elements spread all along South Luogu Lane, such as the groceries with a decoration style of 1980's, and the clean and economical youth hostels. In a word, South Luogu Lane is a perfect choice for both tired tourists who need a short break, and people who want only to kill the time.
Means of transportation: Bus 823/850/13/118, get off at luoguxiang Station
We Recommend