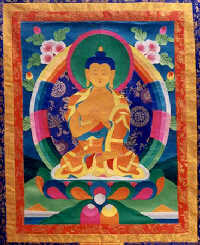 Thangka, seen in every monastery and family shrine in Southwest China's Tibet Autonomous Region, is actually a kind of Tibetan scroll-banner painting and is a unique art form under Tibetan culture.

 What Thangka is
Thangka has been in vogue in Tibet for centuries. In Tibetan, thang means "unfolding" or "displaying," and thangka means "silk, satin, or cloth painting scroll." It is most often painted on scrolls or embroidered on wall hangings of silk or other cloth. Common at monasteries, lamas' residences, family halls for worshipping Buddha, and homes of Tibetan Buddhists, thangka is a mark of devotion to Buddhism and often serves as an object of worship.

 Development
Nobody knows where and when thangka originated, but compared with Tibetan painting, the history of thangka can be traced back to as early as the Tubo period (or rather the Songtsen Gampo period, around the 7th century), in a combination of Chinese scroll painting, Nepal painting, and Kashmir painting. From the relics of Karuo in Qamdo, we can find traces of thangka.
In the 7th century, Songtsen Gampo united the whole Tibet, hence beginning a new period in Tibetan history. Later Songtsen Gampo married Nepalese Princess Chizun and Tang Dynasty (618-907) Princess Wencheng, further strengthening the political, economic, and cultural connections between the Tibetan and the Han ethnic groups.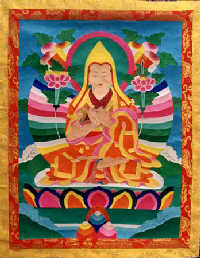 The two princesses came to Tibet with many Buddhist scriptures, architectural technology, laws and truths, medical scriptures, and many skilled artisans, greatly stimulating the development of Tibetan society, and especially flourishing the culture of Tibetan Buddhism. At that time, frescoes alone could not satisfy the need of those disciples. So another kind of art, Thangka -- easy to carry, hang, and collect --, appeared and became popular.
During the Ming and Qing dynasties (1368-1911), the Central Government adopted the system of approving Tibetan chieftains to strengthen the control over Tibet. These methods contributed to the development of the Tibetan society. So the Ming and Qing dynasties saw a great progress in the development of thangka. In fact, most of the existing thangka were made during this period of thangka development, which had three characteristics: a larger number of thangka; the rise of different schools; and the existence of many painting organizations.