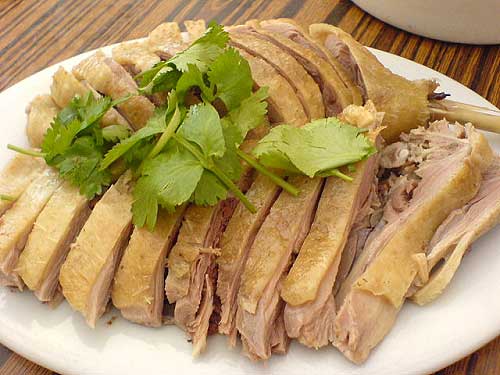 salted duck seasoned with osmanthus flower
Duck's head, wing, feet and neck are braised in sauce, and usually served as a snack with Chinese rice wine. Duck blood (coagulated), intestines and liver are boiled together with rice noodle for noddle soup.
Duck fat is used to bake shao bing (a layered flat bread, with no filling, and sesame on top 烧饼), featuring a delicate fatty taste. If prepared in the authentic Nanjing style, duck has tender, fatty but not greasy meat, and a rich and deep flavor created by spices and fragrances.
Shrimp is also popular. Unlike many Cantonese and Shanghai chefs who prefer to use the whole shrimp, Nanjing chefs often pound the shrimp into a paste and reshaped it into flat cakes and balls.
"Many classical Nanjing dishes come from the boat banquet, which can be traced back to the Ming Dynasty (1368-1644)," says chef Sun from Jinling Hotel.
At that time, leisurely covered-boat rides were the major entertainment for Nanjing aristocrats who wrote and recited poetry, listened to music and appreciated he passing scenery. Dining complemented the whole experience.
"All banquet foods would be related to water to emphasize the river, such as duck, fish, clams and shrimp," the chef explains.
The popularity of boat banquets also inspired people to open many tea houses and restaurants along the river. They were famous for serving boat chuan dian (船点), or boat dim sum, that was mostly steamed, with savory or sweet fillings. They also served rice cakes make in the shape of water plants and fish, as well as puff pastry.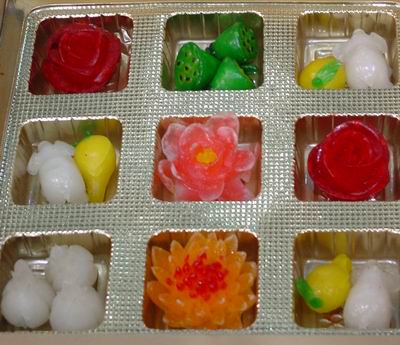 chuan dian (船点)
Some boat dishes gradually developed into minguo cai (民国菜), a cuisine that arose when the city was the capital of the Republic of China (1912-1949). It is not one of the hottest food trends in the city.
"Minguo cai is based on Nanjing cuisine but absorbs food culture from other cuisines such as Hunan, Zhejiang and Cantonese. It is known for being time-consuming and labor intensive in preparation," says chef Sun.
Many of the dishes are related to historical anecdotes, some linked with Kuomintang leaders such as General Zhang Xueliang. For example, a popular meat dish, "General's Jar of Pork," is named after him because it was his favorite.
It's difficult to find restaurants featuring authentic Nanjing cuisine in Shanghai, but it's easy to make a weekend food trip. Nanjing is just a three-hour drive from Shanghai and a two-hour high-speed train ride.
We recommend: