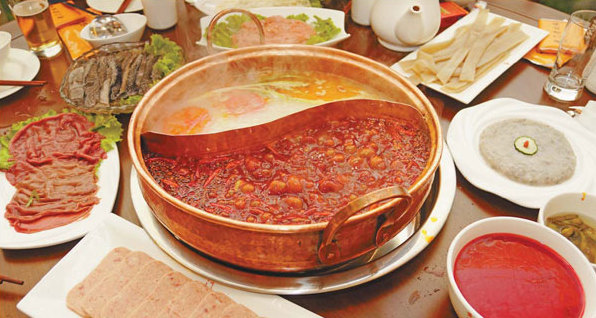 Chongqing hotpot with two soup bases at Huang Family Old Hotpot Restaurant. Ye Jun / China Daily
Sichuan cuisine has come a long way in Beijing and continues to evolve with steady following. Ye Jun traces the fiery journey.
At a time when many restaurants see a decline in business, the long line at Meizhou Dongpo chain restaurants is enviable. The Sichuan food establishment has seen an 8-percent increase in business from January to May compared with the previous year.
A recent government's curb on spending with public funds has affected many high-end eateries in Beijing. But like Meizhou Dongpo, Sichuan cuisine seems to be an exception.
Salt, a restaurant offering Chongqing-style hotpot which opened recently, reflects the new trend.
Huang Ke, founder of Salt, says Chongqing hotpot caters mostly to the middle- and lower-income market.
Originally from Sichuan, he came to Beijing in 1983, and he has witnessed the development of Sichuan food in the capital city.
In 1950s, the only Sichuan restaurant was Sichuan Fandian in Dongrongxian Hutong, offering high-end Sichuan dishes. Sichuan dishes were also available at high-end places such as the Beijing Hotel.
In the 1990s, there were more Sichuan restaurants. With the reform and opening-up policy, there were more immigrants in the city including those from Sichuan province, who promoted the needs of their home-style cuisines.
Variety and good taste are what attract customers to many small Chongqing snacks restaurants on the street. But there were also restaurants like South Beauty that give Sichuan cuisine a face-lift by presenting classic Sichuan cuisine in Western style for business-oriented customers.
The development of Meizhou Dongpo chain restaurants in Beijing gives one an idea of how Sichuan restaurant has made it big in the capital city. The restaurant was founded by a Sichuan couple, who were ordinary chefs - one specializes in hot dish, another in cold dishes.
We recommend: