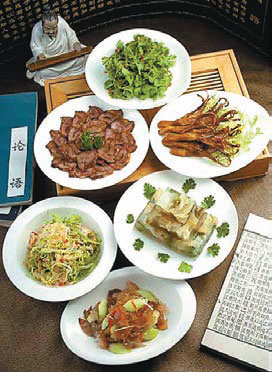 Six Arts Appetizers from the Kong Family repertoire will be featured at the Shangri-La's Qufu Culinary Road Show. Provided to China Daily
The Shangri-la group of international hotels will launch Qufu's first five-star hotel early this year, with grand plans to promote Kong Family Cuisine, the cooking style carefully preserved by the descendants of Confucius, China's most famous sage.
Qufu is the philosopher's hometown in today's Shandong province, and has always been a popular tourist destination for millions from China and abroad. The Shangri-la, Qufu, to be launched around March, will be the city's first international standard luxury hotel.
The new hotel is within walking distance, of the Temple of Confucius, and a 10-minute drive from the train station, where visitors can take advantage of the Beijing Shanghai high-speed rail route from either end.
Apart from Shangri-la's signature Shang Palace with its classic Cantonese cuisine, food and beverage outlets at the Qufu hotel will also feature Kong Family dishes.
The hotel will also establish a Confucius Cultural Center, and seminar and conference facilities, including a 1,600-square-meter, pillar-free ballroom.
Gourmets wanting to experience the Kong Family dishes do not have to wait for the hotel to open, however.
The group will be showing its chefs' expertise with an international culinary road show that has already started in Qingdao, and will travel to Singapore, Hong Kong, Taipei, Jakarta and Bangkok.
Among the dishes from the Lu cuisine chefs are classics from the Kong Family repertoire, some alluding to the Sage's teachings, with ingredients based on regional produce from Qufu.
Kong Mansion's Six Arts Appetizers include spiced beef shanks, sea whelk jelly salad, scallops and lettuce salad, jelly fish salad, spiced duck tongues and baby celery with sesame and olive oil dressing. There is also Confucius Four Supreme Bowls representing fortune, prosperity, longevity and happiness - braised chicken, braised fish, braised pork and a meat roll of minced chicken and prawns wrapped with seaweed.
While the Sage probably never got to feast so opulently, his descendants had slowly developed a cooking style that paid tribute to their ancestor, drawing influence from the Ming (1368-1644) and Qing (1644-1912) dynasties.
The banquet style is elaborate with much reference to rituals and religious ceremony. And, of course, it is based on Shandong, or Lu cuisine, just as the Qing royal kitchens also drew from this first among China's four major culinary influences.
paulined@chinadaily.com.cn
By Pauline D Loh (China Daily)