Hailar is not just famous for its scenery. The transit city is home to many legends, as Wang Kaihao finds out.
Hailar sits in the center of Hulunbuir in the far northeast of the Inner Mongolia autonomous region.
This city with a population of 340,000, where Hulunbuir municipal government is located, is a common pit stop for visitors on long journeys across the world-renowned grassland.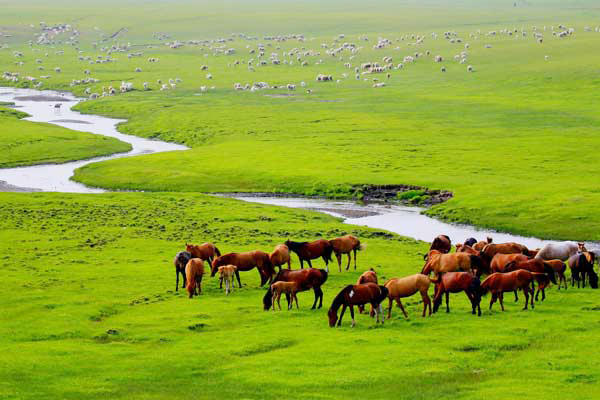 Hulunbuir is home to some of the country's best grasslands.[Zhang zhongze / for china daily]
Since I have only two days here, I have to race against time to catch the unique corners of Hailar.
As the car drives out of town into fresher air, suddenly all the weariness brought by travel is gone. I could not stop taking photographs of the beautiful layers of clouds against the azure sky.
Observing me, the driver surnamed Zhou smiles with pride. "I always wonder why you guys from cities like these clouds. It is normal for us."
As we enter the grassland, the clouds become too heavy and it starts to rain.
"The climate is getting drier in recent years," Zhou says. "It is rare to see such heavy rain in this season. It is good for the grass."
As the rain reduces to drizzle, I immediately ask the driver to stop the car so that I can feel the grass.
We recommend: