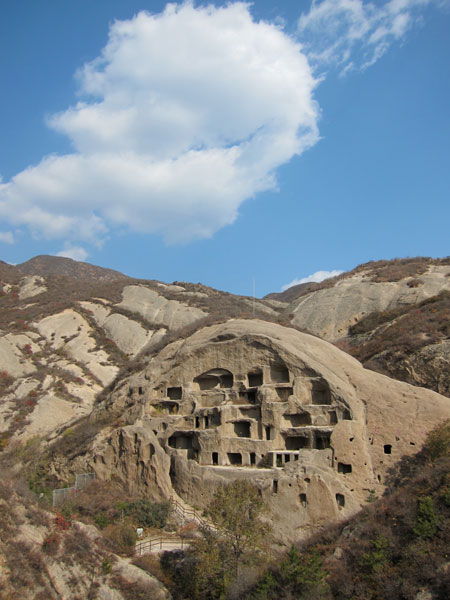 The Guyaju, a cliff-dwelling settlement, consists of 350 chambers whittled inside 117 caves. [Photo by Erik Nilsson / China Daily]
There are many theories about the caves bored out in the cliffs of Zhangshanying, reports Erik Nilsson, but they are certainly worth a visit.
While a hole in a wall is undesirable real estate today, it was ideal accommodation for a mysterious people who settled north of Beijing about 1,000 years ago.
No written record mentions the population who bored the caverns of the country's largest cliff-dwelling settlement in today's Zhangshanying town, Yanqing county, about 90 km northwest from the downtown capital.
But they carved in stone a lasting legacy that reveals little except they existed and were erudite at digging and defense, before vanishing into thin air.
One point archeologists agree on is that "China's biggest maze" - as the site is colloquially known - would have been virtually impenetrable.
The 350 chambers whittled inside 117 caves were hacked into the cliff sides in a valley fewer than 10 meters across. They pock a 5-km span.
These perforations in the crag are labyrinthine in arrangement.
Some are connected vertically, while others are linked horizontally and a few are adjoined both ways.
Some are single rooms, while others are clusters. A plexus of stone steps and ladders enable access to the 3-20-square-meter stone chambers.
They still house beds, ovens, tables and feed troughs sculpted into the rock. These ancient engineers also designed ventilation and drainage systems for their hive.
We recommend: