Egyptians amazed by Chinese tea culture during exhibition in Cairo
Updated: 2019-08-23 10:13
(Xinhua)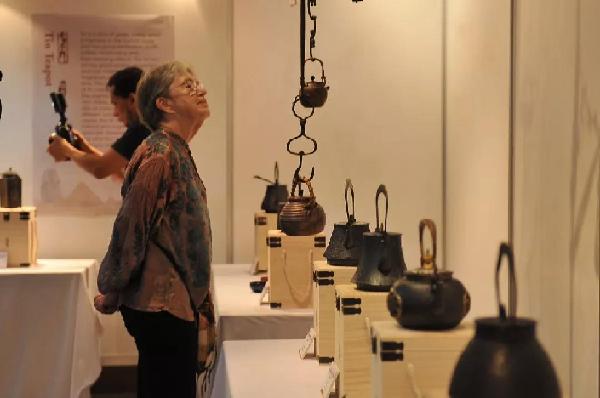 [Photo/Chinaculture.org]
Dozens of Egyptian visitors were fascinated by the Chinese tea culture and various artistic teapots presented at an exhibition held on Thursday at the Chinese Cultural Center in Cairo.
Dubbed "the Exhibition of Teaware and Tea Art with Oriental Aesthetics," the event showcases about 30 traditional Chinese iron, copper, tin, silver and golden teapots with various shapes and sizes, in addition to presentations on stage by Chinese tea and teapot makers.
"I am an Egyptian artist who is interested in the Chinese culture, and I learned today that the Chinese people don't just drink tea but it's a matter of spiritual art and meditation for them," Egyptian singer and actor Sameh Yousry told Xinhua during the exhibition.
"Such cultural activities bring Egyptians closer to the Chinese culture and promote cultural exchange between the two countries," the Egyptian artist added.
The exhibition also introduces the manners and etiquettes of making and offering tea in China, as well as the different types of Chinese tea, including green, dark green, black, yellow, white and oolong tea.
Diaa Ali, an Egyptian law college graduate, said that he recurrently visits the Chinese Cultural Center in Cairo to broaden his knowledge about the Chinese culture, expressing his admiration of "the respectful way the Chinese offer tea with both hands."
"These activities make me more curious about China and interested in its culture, and I have decided to join the next course at the center to learn Chinese," the Egyptian man told Xinhua.
Chinese metal teapot maker Ma Xiaolin, who inherited the craft from his forefathers, said that the Chinese teapot underwent fast developments and innovations throughout history, noting that their colors became more various and unique with beautiful styles over time.
"We display such a variety of Chinese teapots and tea sets to enjoy together their aesthetics and feel their contribution to enriching cultural exchange between China and Egypt," the Chinese teapot maker said in a statement during the event.