Beautiful Encounter between Children and Nature
chinadaily.com.cn
2023-06-05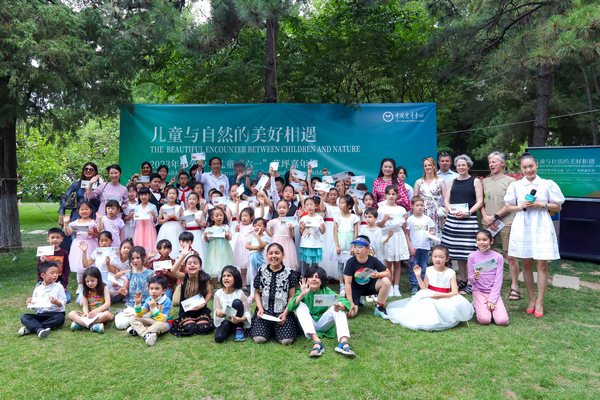 On June 3, the "Beautiful Encounter between Children and Nature" organized by the China Children's Center was held in Beijing. Yuan Lixin, director of China Children's Center, attended the event and delivered a speech. Representatives of relevant institutions, embassies in China, and international organizations participated in the event with more than 100 children.
Yuan said 2023 marks the 10th anniversary of the joint construction of the Belt and Road initiative. To strengthen exchanges and mutual learning among civilizations, promote people-to-people bonds, and jointly build a green ecological environment, we need to take more effective actions.
"Children are the future of the world and I hope that all the children will sublimate this short and beautiful encounter into an inexhaustible source of infiltration of the soul, from which they will continue to absorb the nutrition of ecological civilization thoughts, uphold the concept of sustainable development, strive to enhance the sense of ownership of environmental protection, and practice sustainable development."
Yuan Xikun, the first master of environmental protection art awarded by the United Nations and the curator of Beijing Jintai Art Museum, addressed the event.
Contact us
Address:ASEAN-China Centre, No. 43, Liangmaqiao Road, Chaoyang District, Beijing, China
Postcode: 100600
Tel: 86-10-65321660 ext 636
Fax: 86-10-85322527
Weibo: weibo.com/aseanchinacentre