Live Broadcast Held by Cambodia Rural Road Project of the Belt and Road Overseas Engineering Science Camp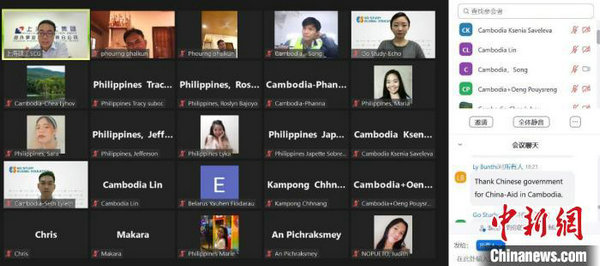 As one of the demonstration activities included in the National Science and Technology Volunteer Service Week, The Belt and Road Overseas Engineering Science Camp - Cambodia Rural Road Project Phase II, Stage 1 Live Broadcast, organized by the Youth Science and Technology Centre of the China Scientifically Create Association, was successfully held recently. It enhanced the understanding of Cambodian teachers and students about the China-aided projects and promoted people-to-people connections between the two countries.
During the live broadcast, Wang Haichao, the chief engineer of the contracted company of the project, introduced the project, as well as the current status of Cambodia's rural roads, Cambodia's Road of Hope and the project's related engineering knowledge and technological innovation. Hundreds of students and teachers from Cambodia, the Philippines and China attended online and interacted with the presenter. Several Cambodian teachers and students who participated in the live online activity said that it was dangerous to construct on the former war zone, and they thanked the Chinese people and the Chinese government for their assistance to Cambodia. After the live broadcast, many Cambodian youths expressed their desire to visit the engineering department of the Cambodia Rural Road Project.
It has been shared that the completion of Cambodia Rural Road Project Phase II, Stage 1, will improve the road infrastructure in rural areas of Cambodia. It is of great significance in reducing the poverty level of the local rural population and promoting economic and social development. The project has also played a positive role in promoting bilateral science and technology cooperation between China and Cambodia.
"The Belt and Road" Overseas Engineering Science Camp was initiated by the Youth Science and Technology Centre of China Scientifically Create Association in 2022, and is a science camp built in collaboration with more than 20 central enterprises, such as CCCC and CREC, to open the resources of overseas engineering projects on a regular basis, aiming to improve the scientific quality of youth in Belt and Road participating countries, promote local people's understanding of China's overseas construction projects and serve people-to-people exchanges.
Contact us
Address:ASEAN-China Centre, No. 43, Liangmaqiao Road, Chaoyang District, Beijing, China
Postcode: 100600
Tel: 86-10-65321660 ext 636
Fax: 86-10-85322527
Weibo: weibo.com/aseanchinacentre