Construction of China-Laos railroad heightens Chinese learning boom, Lao students grouped to Guangxi to study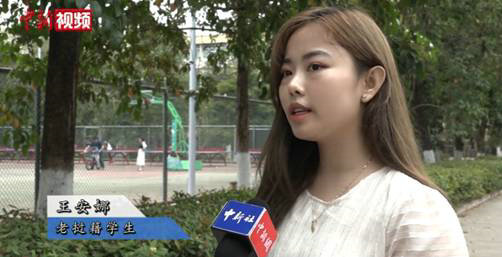 Anna Wang, a Laotian student, said on March 20 in Guangxi, "I heard that the seniors are working on the China-Laos Railway line after graduation. I will try my best to learn Chinese and try to serve the China-Laos Railway."
The completion and operation of the China-Laos Railway has created convenient conditions for economic, trade and people-to-people exchanges between China and Laos, promoting the rising trend of learning Chinese among the Lao people.
From March 18 to 20, a delegation from the government of Taqu, Khammou Province, Laos visited Chongzuo, Guangxi Zhuang autonomous region. 15 students also came together, they will study Chinese language and literature, International Economy and Trade in Guangxi Normal University for Nationalities.
Guangxi Normal University for Nationalities is located in Chongzuo City. Over the years, it has trained students from Laos, Vietnam, Thailand, Cambodia and other ASEAN countries, among which more than 20 Laotian graduates have served in the operation of the China-Laos railway.
Anna Wang, an International Economy and Trade student at this university who enrolled in 2019, has been taking online classes in Laos for three years due to the coronavirus pandemic. Wang Anna said, "In addition to learning Chinese classes online, I also watch Chinese movies, listen to Chinese music, talk with Chinese friends and practice speaking Chinese."
Anna Wang will graduate this June. She hopes that her comprehensive Chinese language skills will help her in find a job. Anna Wang said that after the opening of the Laos-China Railway, the economic and trade cooperation between Laos and China has become closer, and the demand for Chinese language talents is increasing in Laos.
Laotian student Alia is new to Guangxi and does not yet speak Chinese fluently. Alia's father works in international trade and his company has close relations with Chinese companies. The purpose of Alia's visit is to learn Chinese, and international economic and trade knowledge, so that she can take over and become a "bridge" for economic and trade cooperation between Laos and China in the future.
Chongzuo City and Taqu City bonded and became international friendship cities in 2015. Over the years, the two cities have attached an importance to expanding cooperation in humanities and education, and Chongzuo has enrolled a total of 40 students from Taqu City and provided them with International Sister City Scholarships. In the future, the two cities will work together to promote cooperation in the field of education, explore the formation of mechanisms for the exchange of talents and youth, and carry out multilevel and practical cooperation in various fields.
As a link of exchanges and cooperation between China and ASEAN, Guangxi has become one of the provinces in China that receives the largest number of overseas students from ASEAN countries, and the brand effect of "Study in Guangxi" is constantly expanding. Guangxi universities have established 8 Confucius Institutes in ASEAN countries, and more than 10 vocational colleges, which cooperate with enterprises in "going global" and train technical talents for Chinese enterprises abroad and ASEAN countries.
Contact us
Address:ASEAN-China Centre, No. 43, Liangmaqiao Road, Chaoyang District, Beijing, China
Postcode: 100600
Tel: 86-10-65321660 ext 636
Fax: 86-10-85322527
Weibo: weibo.com/aseanchinacentre