Chinese animation IP boom hits Singapore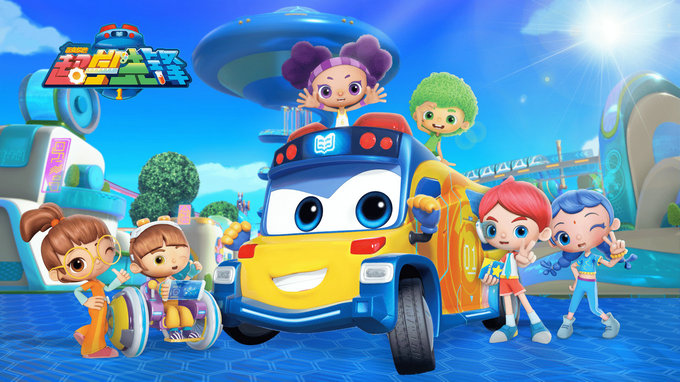 The first and second seasons of the Chinese animated series "GoGoBus and TeamSteam" will air on Singapore MediaCorp from July 17, marking a new move of Chinese animation in the overseas market.
According to Long Jinlian, the brand leader of the production company Guangdong Wing Sing Animation, the animation is a domestic STEAM (the first alphabetical abbreviation of Science, Technology, Engineering, Arts and Mathematics) production for children in China. With its supra-disciplinary educational concept output and international production level, the animation has been broadcast online in Indonesia, Malaysia, Brunei and other overseas regions since 2020 and has been well received by viewers.
"GoGoBus and TeamSteam" is one of the epitomes of the development of Guangdong's animation industry. In recent years, Guangdong has produced numerous popular animation IPs, such as "GG Bond", "Pleasant Goat and Big Big Wolf", "Boonie Bears", "Super Wings" and "Balala the Fairies" have all become popular at home and abroad.
"Pleasant Goat and Big Big Wolf" has broadcast over 3,000 episodes and distributed in more than 100 countries and regions worldwide. "Super Wings" has been distributed in over 150 countries and regions and was shortlisted for the 5th International Emmy Awards for Children. "GG Bond" was broadcast on Malaysian television channel Astro Little Sun and became among the top five programs of its kind.
Traditional Chinese culture is an inexhaustible treasure for domestic animation creation. Take "GG Bond" as an example, the animation incorporates a large number of Chinese kung fu elements, such as vajra legs, tai chi, impenetrable defense, qing kung and other martial arts moves.
From IP content production and distribution to derivative content, products and services, Guangdong's animation industry continues to build a business system across the entire industry chain to realize multiple realizations. The new series of books of the early education animation GoGoBus has also recently entered the Malaysian market. The "GoGoBus" series of toys and derivatives have been present in over 200 toy shops in countries such as South Korea, Indonesia and Vietnam. "We promote the extension of animation IP to the upstream and downstream of the industry chain, making the derivatives market expand at an accelerated pace," the person in charge of Wing Sing Animation said.
Guangdong's animation industry is booming. Today, animation creation is gradually getting close to the mainstream, with a move towards refinement in terms of content, core value and the application of technology. Liu Zhendong, deputy general manager of Guangdong Alpha Animation and Culture Company, said that animation practitioners should take advantage of the good business environment and policies to strengthen the export of animation brands to the outside world and create more animation identification with global influence.
Contact us
Address:ASEAN-China Centre, No. 43, Liangmaqiao Road, Chaoyang District, Beijing, China
Postcode: 100600
Tel: 86-10-65321660 ext 636
Fax: 86-10-85322527
Weibo: weibo.com/aseanchinacentre