Chinese bicycles help Cambodian children go to school
"Finally, I have a bicycle of my own!" said the 12-year-old Cambodian girl Chhum Seavling. She was so excited to have a blue bicycle from China. Six months ago, this bicycle was still on the streets of Guangzhou, 1,500 kilometers away, serving local residents.
Chhum Seavling was a sixth grader at Chok Primary School in the Bati district of Cambodia's Chayan province, about 50 kilometers south of the capital Phnom Penh.
Chhum's family was poor, but she had been insisting on going to school. Many children in her village dropped out because of poverty. Chhum lived about three kilometers from her school, and for years she had to walk to get there and back, taking more than half an hour each way. "My parents are farmers with little savings. It was impossible for them to buy a bicycle for me," she said. The hot weather also made it painful for her to walk to school. She thought about dropping out several times.
"Now I have a bicycle from China, which is really a great convenience for me. It only takes five to 10 minutes to get to school." She was very happy that she did not need to drop out because of traffic problems. Chhum's parents said that she cherished her bicycle and gave it a careful scrub every day after school.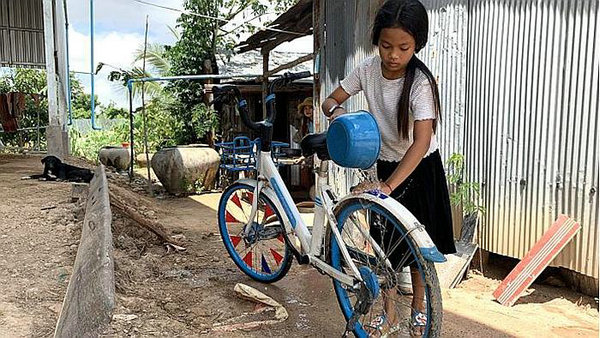 For rural children, the difficulty of schooling comes from lack of transportation. It is common for rural students in Cambodia to walk long distances to school, and some students even have to walk seven kilometers. Thirty-five bicycles were donated to Chok Primary School earlier this year. "These bicycles will help change their lives and give them hope. If we bought these in Cambodia, each one would cost about 250,000 Cambodian rials (about 390 yuan), which would take a poor rural family one to two months to earn," said Khuon Chhorn, the headmaster of the school. The school distributed the donated bicycles to students from the poorest families, for which the headmaster had visited one by one in person. "Not only can students ride them to school, but their parents can also ride them to the market, to the rice fields, to the farm, and to carry things," he said.
Education is important in addressing widespread poverty. According to a 2017 UNESCO document, if everyone completed secondary education, the global poverty rate could be cut by more than half. Research by World Cycle Relief shows that bicycles have a profound impact on education, with attendance increasing by 28 percent and academic performance increasing by 59 percent in developing countries surveyed.
In 2021, Hello Inc. actively participated in the "International Love Bicycle Project", which aimed to reuse idle resources in society to help children in developing countries take short trips and reduce the time they spend on school trips so that they can better receive education. After the project started, Hello Inc. has gathered 1,000 bicycles in service in Guangzhou city for centralized maintenance and cleaning. During this year's Spring Festival, the bicycles arrived in Cambodia and were distributed to 67 schools in four provinces, directly benefiting 1,000 students.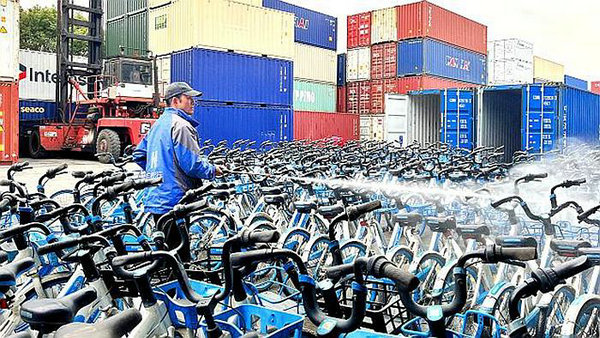 After the landing of the bikes, many students wrote letters of thanks, saying the bicycles helped in their study and their lives. The donation not only created a new way for the recycling of shared bicycles, through which the Chinese bicycles could play an important role abroad, but also effectively met the needs of students in impoverished areas and improved their learning conditions. This makes the children in poor areas of the Belt and Road countries truly feel the friendship and love of the Chinese people.
Contact us
Address:ASEAN-China Centre, No. 43, Liangmaqiao Road, Chaoyang District, Beijing, China
Postcode: 100600
Tel: 86-10-65321660 ext 636
Fax: 86-10-85322527
Weibo: weibo.com/aseanchinacentre