Singapore's Ministry of Education holds online discussion with Chinese primary students
A dialogue on sustainability took place between students and the Singapore's Ministry of Education.
In the past two years, Hangzhou Jincheng Foreign Language Elementary School has held its international exchange activities online, making it possible for children to participate in global exchanges and broaden their horizons. The theme of this year's activity was "Green Guardian", and it was also the last project of the 2022 Global Sustainable Development Online Communication. During the event, students actively participated in the process of deciding the theme, making plans, studying projects, and so on.
"How long have you been working on this project?"Singapore's Minister of Education Chen Zhensheng asked.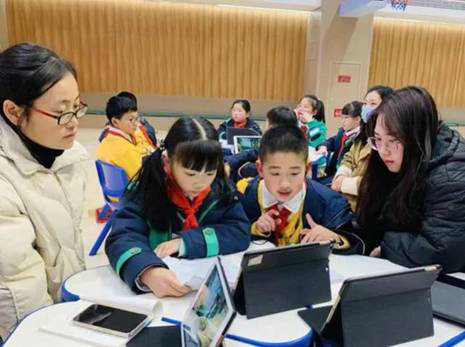 "About five months." A fifth grade student answered in fluent English.
"Can you share your GSDP (Global Sustainability) learning experience with us?"
"I joined the garbage sorting group. Using the information collected by our team members, we put the rubbish in four types of bins: kitchen waste, recyclable waste, other waste and hazardous waste. We also recycled useful waste and made good use of it."
"What have you learned in the program?"
"We learned to protect the environment. We are unable to go abroad because of the pandemic, but I still have the opportunity to communicate online. I know Design Thinking and I can apply it to my studies."
"What did your school do to support this program?" Chen continued.
"First, the school called on everyone to protect the green environment. On Arbor Day, every student should plant trees on the campus. Then we learned about garbage sorting. At the science and technology festival, we can turn garbage into treasure by recycling."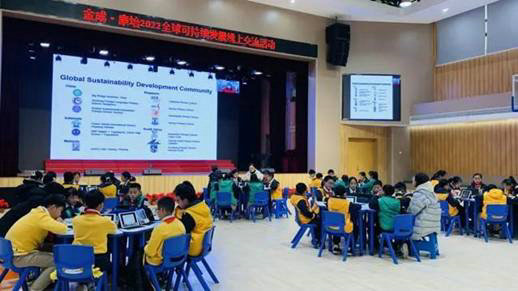 The students of Jincheng Foreign Language Elementary School take steps to promote sustainable development.
According to Sun Xiaofu, the principal of the school, although the global sustainable development online communication activity is over, the students' enthusiasm for learning remains high. Some learning methods from the project are being extended in after-school activities as well.
Since the implementation of the "double reduction" policy, Jincheng Foreign Language Elementary School has opened 60 extended courses for students to choose from. While reducing the homework burden, students can have more time to participate in international exchange activities to find their interests.
The students' English expressions and interpersonal skills have also improved rapidly. She believes that in the future, more students will participate in the school's project-based activities with different themes.
The promotion of "double reduction" brings more possibilities to students and schools, and makes the road of international communication of schools wider and wider.
Contact us
Address:ASEAN-China Centre, No. 43, Liangmaqiao Road, Chaoyang District, Beijing, China
Postcode: 100600
Tel: 86-10-65321660 ext 636
Fax: 86-10-85322527
Weibo: weibo.com/aseanchinacentre