Youth painting exhibition puts Winter Olympics in forefront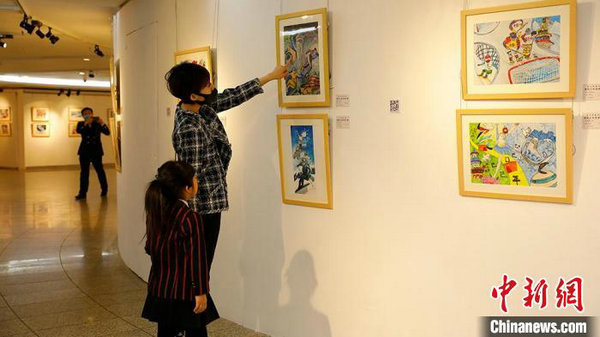 On Sept 28, the Winter Olympic on My Mindexhibition was inaugurated at the China Millennium Monument in Beijing.
After two months of global collection, the international youth painting exhibition received over 3,300 works from China (including Hong Kong and Macao), Japan, Malaysia and other countries and regions. The youngest contributor is only 3 years old, while the eldest was 17. Judged by experts, more than 260 pieces of excellent works were chosen for the offline exhibition.
"The 2022 Winter Olympics is a crucial event that connects China to the world. The international youth painting exhibition shares a similar wish of bringing China and the world together in a peaceful and cooperative way." China Soong Ching Ling Foundation vice-chairman Yu Qung said. "We're glad to see over 3,000 youth from the world unfurl a scroll of peace and fraternity through colorful Winter Olympic images."
"These paintings recall days of childhood to me. They remind me of the ice and snow world once I lived in," said Zhang Mingzhou, president of the International League of Children's Books. "The paintings of the youth show their creativity and perception of beauty. Their mastery of shaping, line and color is breathtaking."
Lin Yun, President of China Peace Publishing House, said "We'll publish the 2022 Beijing Winter Olympic Commemorative Albumto cherish the memory."
The exhibition is co-sponsored by China Peace Publishing House and the organizing committee of International Youth Painting Exhibition. It aims to enhance international art communication and expand global youth's public interest and engagement in the 2022 Beijing Winter Olympic and Paralympics. The exhibition ran through Jan 3.
Contact us
Address:ASEAN-China Centre, No. 43, Liangmaqiao Road, Chaoyang District, Beijing, China
Postcode: 100600
Tel: 86-10-65321660 ext 636
Fax: 86-10-85322527
Weibo: weibo.com/aseanchinacentre