Cambodia holds high school exams under strict COVID prevention rules
Cambodia's high school entrance examination was held as planned on Nov 15 and 16 thanks to the universal vaccination of youngsters. Officials said the examination rooms were orderly and no mass infections happened.
Han Xinaryeol, director-general of the Cambodian Phnom Penh Education Bureau, pointed out Phnom Penh high school examination centers strictly implemented epidemic prevention measures, with alcohol disinfection and temperature measurement points set up at entrances and exits, and special examination centers arranged in advance as a precaution. On the first day of the examination, Phnom Penh referenced nearly 16,000 students.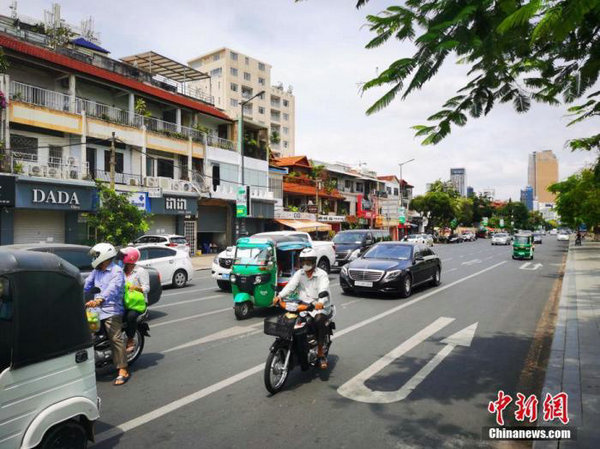 So far, Cambodia has met its COVID-19 vaccination target for children and adolescents between the ages of 6 and 17, with a total of 3,709,000 vaccinated at least once and 3,246,000 with two doses.
The national high school entrance examination was held from Nov 15 to 16, as the 2021-22 term will start on Jan 10. According to the regulations of the Cambodian Education Bureau, candidates must take temperature measurement when entering the examination room. If a person's temperature exceeds 37.5 degrees Celsius, they should rest for five minutes then take the temperature again. They can only enter the examination room when their temperature returns to normal. If the temperature is still higher than 37.5 degrees Celsius, the test for this kind of student would be isolated in a special examination room.
At present, Cambodia is stepping up the implementation of the Strategy Toward a New Normal in the Face of COVID-19to fully reopen all sectors of the economy to accelerate recovery. On Nov 1, all Cambodian schools resumed classes, and the Cambodian education department set the date for this year's college entrance examination. The national college entrance examination, originally scheduled for Dec 6, has been postponed to Dec 27.
In addition, a new batch of COVID-19 vaccines donated by China to Cambodia arrived on Nov 17, with Cambodian Prime Minister Hun Sen receiving them at Phnom Penh International Airport. China is the first country to donate COVID-19 vaccine to Cambodia and the country's largest supplier of COVID-19 vaccine, making China a strategic supplier, said Joo Somba, state secretary of the Cambodian Ministry of Health. Cambodia's relatively high COVID-19 vaccination rate among regional countries is inseparable from China's support, he added.
Contact us
Address:Asean-China Centre, No. 43, Liangmaqiao Road, Chaoyang District, Beijing, China
Postcode: 100600
Tel: 86-10-65321660 ext 636
Fax: 86-10-85322527
Weibo: weibo.com/aseanchinacentre