30th anniversary of ASEAN-China dialogue relations held at ASEAN-China Center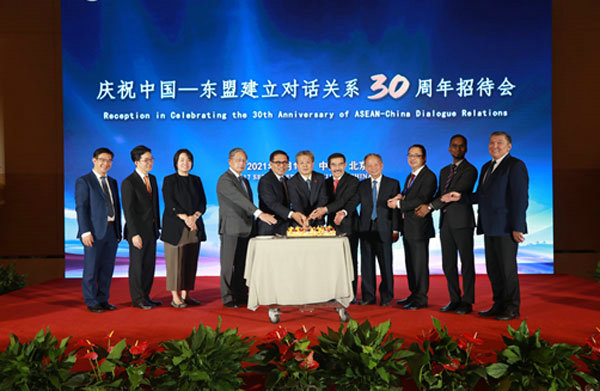 A reception celebrating the 30th anniversary of ASEAN-China dialogue relations was held at ASEAN-China Center in Beijing on Sept 17, 2021. About 200 guests attended the reception. Among them are Zhang Jiuhuan, special representative of Ministry of Foreign Affairs of China, embassy officials of 10 ASEAN countries in China, representatives of international organizations, Chinese government officials, several former Chinese ambassadors to ASEAN countries, and representatives from the sectors of industry, business, culture, education tourism, think tank, and media. Dance by eight child performers from the Beijing Blue Sky Little Angels Art Troupe, tai chi by students from the Capital Normal University, and Wuju opera by four child performers from the Yiwu Convergence Media and Art Center from Zhejiang province added to the joyous atmosphere of the reception.
A special commemorative cake were cut by Chen Dehai, secretary-general of ASEAN-China Center, ambassador Zhang Jiuhuan, Rahmani, Ambassador of Brunei to China, Zhou Haoli, Indonesian Ambassador to China, and other representatives of ASEAN embassies and international organizations in China. The representatives witnessed the official launch of the ASEAN Cultural Heritage Handbook series. Congratulatory videos and messages from the ambassadors of ASEAN countries to China and China to ASEAN countries were broadcast during the event.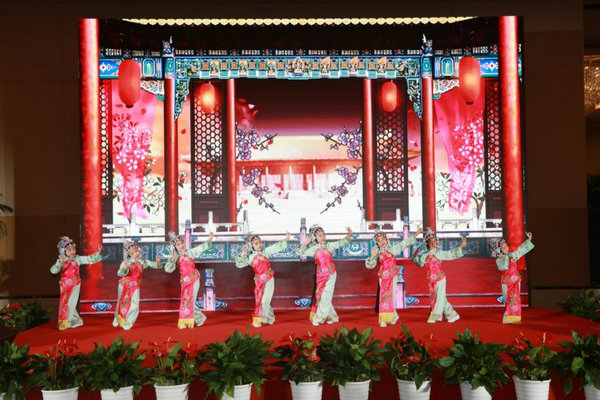 The opening dance of the reception was Little Huadan, a classic brought by eight child performers with the Beijing Blue Sky Little Angels Art Troupe. Their performance, perfectly combining Peking Opera and children's dance and showing the beauty and liveliness of the little Huadan(a young female role in Chinese opera), won thunderous applause from the audience. Before and after the performance, the guests from home and abroad cordially interacted with these children.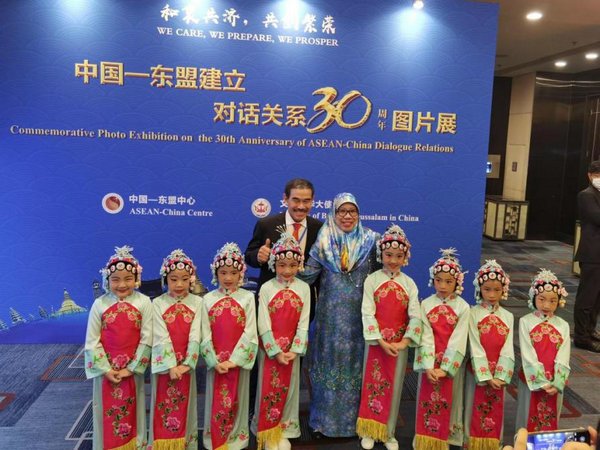 Four child performers, all aged 8, selected by the Yiwu Convergence Media Art Center as cultural communicators for the reception, gave a well-received Wuju opera performance. They all dressed up as Wang Zhaojun, a historical figure widely viewed as a symbol of peaceful, intercultural exchange in ancient China. They also gave the guests an introduction about the Yiwu-Xinjiang-Europe cargo train and the Yiwu-Ningbo-Zhoushan Transport Channel. The young performers won the hearts of foreign guests at the reception, many of whom came over to talk to them and took photos together.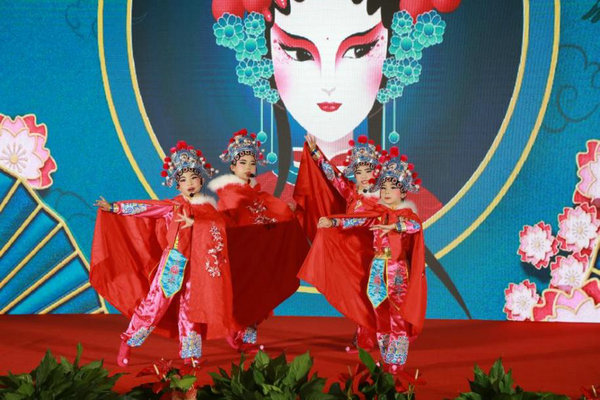 Chen Dehai, secretary-general of ASEAN-China Center, presented certificates of honor to the four young performers and encouraged them to study hard and to continue to act as cultural communicators.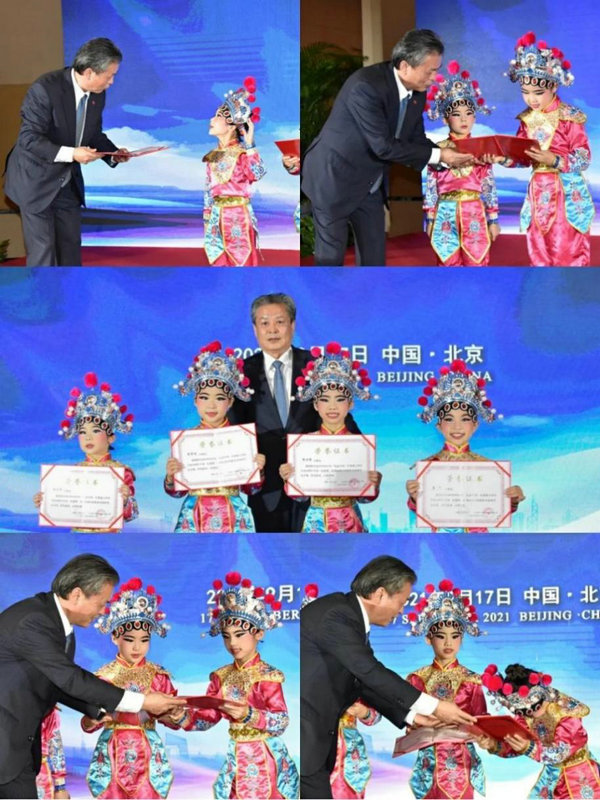 Contact us
Address:ASEAN-China Centre, No. 43, Liangmaqiao Road, Chaoyang District, Beijing, China
Postcode: 100600
Tel: 86-10-65321660 ext 636
Fax: 86-10-85322527
Weibo: weibo.com/aseanchinacentre