Overseas Chinese teens learn about China's culture online
The online winter camp "Embrace China-Telling a story" started on Dec 16. 213 overseas Chinese teenagers from the Philippines, Malaysia and Singapore participated for 15 days, learning about China's traditional culture online.
Datuk Tianchang Chen, president of the Federation of Societies of Nan'an Malaysia, said:"Overseas Chinese teenagers learned Chinese stories through this activity and knew more about Minnan and southern Fujian. At the same time, they strengthened their understanding of China's culture." He also said as soon as the news of the online winter camp spread, 80 children of overseas Chinese in Malaysia expressed their willingness to sign up for it in just two days and showed great enthusiasm for learning.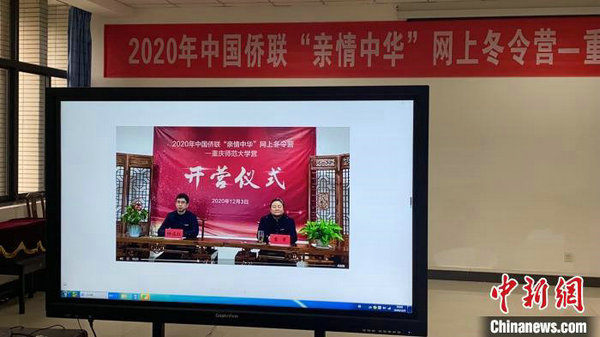 The 2020 camp was organized online. Teachers gave campers two stories every day, covering famous works and celebrities, human geography, historical origins, epidemic prevention knowledge and other topics, and an audio and video presentation about Fujian's cultural characteristics released every two days.
An online open interactive class was also added. Besides studying cooking famous Fujian dishes and performing Yongchun Baihequan and Fujian tea culture, campers also learned paper-cutting and Quanzhou lanterns.
Chengkai Ding showed great aspiration for the winter camp: "I believe this special way of learning can let me know more about China's culture and broaden my horizon, and also get me more friends."
Xiaoyu Chen, vice chairman of the Fujian Overseas Chinese Federation, said: "We truly hope the online winter camp can provide overseas Chinese teenagers a platform for communication. Campers could have fresh experiences through these targeted courses, and learn more about their hometowns and Quanzhou, and gain a deeper understanding of China's traditional culture."
Contact us
Address:Asean-China Centre, No. 43, Liangmaqiao Road, Chaoyang District, Beijing, China
Postcode: 100600
Tel: 86-10-65321660 ext 636
Fax: 86-10-85322527
Weibo: weibo.com/aseanchinacentre