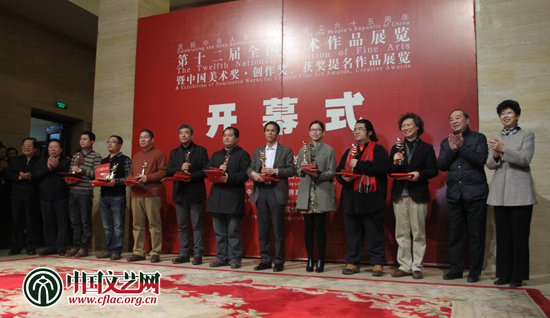 Artists receive their awards at the opening ceremony of 12th National Exhibition of Fine Arts at the National Art Museum of China in Beijing on Dec 15, 2014. [Photo/cflac.org]
The 12th National Exhibition of Fine Arts and Exhibition of Nominated Works for Chinese Fine Art Awards, Creative Awards opened at the National Art Museum of China in Beijing on Monday.
The exhibition is an intensive display of great achievements in the Chinese art creations during the past five years.
The opening ceremony was attended by Chinese Minister of Culture Cai Wu, the chairman of the China Federation of Literary and Art Circles (CFLAC) Sun Jiazheng, and other Chinese officials.
In his address, Cai said that the fine arts play a crucial part in China's culture construction and is also a significant benchmark for the development of art and culture in our nation.
As one of the state-level cultural events since its launch in 1949, the National Exhibition of Fine Arts witnessed the development of fine arts in new China. It has evolved as an authoritative platform with wide influences for Chinese art and artists.
This year's exhibition showcased 576 artworks created by artists nationwide, including 160 award-wining works of the second "Chinese Fine Art Awards and Creative Awards".
These works represent the cultural image of today's China from unique aesthetic visual angles, highlighting Chinese artists' broad cultural vision and their courage to explore the art world.
The exhibition will last from Dec 15 to Jan 4, 2015.