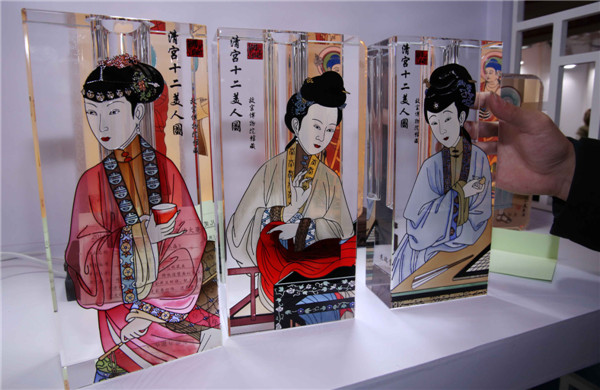 Handicraft products are displayed at the 9th China International Cultural & Creative Industry Expo inBeijingon Thursday.[Photo by Chen Xiaogen/Asianewsphoto]
The 9th China International Cultural & Creative Industry Expo, which features the latest products, cutting edge technology and new creations in the cultural field, opened in Beijing on Dec 11, 2014.
Nearly 50 delegations from 32 countries and regions show up at the exhibition, and 1,800 cultural and creative enterprises brought their products to the venues.
The expo, themed "Driving Cultural Innovation and Promoting Industrial Integration", is setting its major venue at the China International Exhibition Center. It has 16 themed exhibition areas, including a cultural entertainment and cartoon games area; press, public, radio,filmand television area; Taiwan cultural and creative products area; an international cultural creativity area and an urban sculpture works area.
There are also 17 themed trading activities, including a "Chinese Gift" introduction and marketing event, digital content and cartoon games industry promotion seminar and a trading fair of cultural and creative industries of Taiwan and the Chinese mainland. Also, six themed forums will be held during the expo, including a Sino-European culture and trading forum, radio, film and television industry forum, international copyright meeting and ecological culture forum.