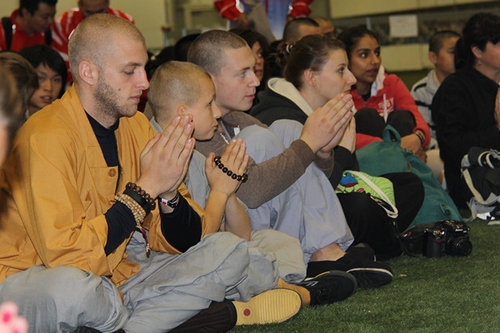 European Shaolin disciples pray at the closing ceremony of Shaolin Cultural Festival in London, UK on Oct 12, 2014. [Photo/Xinhua]
The three-day, 3rd Shaolin Cultural Festival closed in London, UK on Oct 12, 2014.
The Shaolin Temple Abbot Shi Yongxin awarded prizes to winners of the Kungfu competition at the closing ceremony while holding the World Peace Prayer Meeting. Hans d'Orville, the deputy director-general of the United Nations Educational Scientific and Cultural Organization sent a letter to express congratulations to the festival and praised the contributions Shaolin culture has made to strengthen communications among different cultures.
During the 2014 Festival many activities, including a Kungfu competition, attracted over 700 shaolin disciples from European countries, were held successfully. Visitors had the opportunity to experience Shaolin culture as well as Chinese meditation, medicine, tea and an incense ceremony at the festival.
"Shaolin culture is one of the human culture heritages. I hope that Shaolin Cultural Festival can make more people know and get interested in Shaolin Culture, and I invite people around the world to Shaolin Temple," Shi said.
The event was organized by Shaolin Temple China and the European Shaolin Association, with Shaolin Temple UK (China Cultural Funds) as the co-organizer.