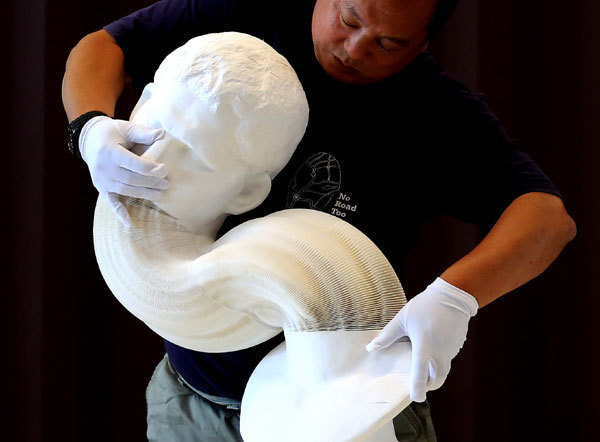 A Gehua Culture Development Group employee displays a paper sculpture of the human head at thearttrade center of theBeijingCulture Free Port. [Photo by Jiang Dong/China Daily]
Beijing's duty-free port aims to turn China into one of the world's largest art markets. Deng Zhangyu reports.
High import duties imposed on artwork brought into China have long discouraged foreign galleries, art dealers and collectors from entering the country's prosperous art market. But the Beijing Culture Free Port, which opened on Aug 25, offers new opportunities for art dealers, and could turn the capital city into the third-largest art market in the world after New York and London.
The Beijing Culture Free Port is located next to Beijing Capital Airport and occupies a space larger than 60 football fields. A total of 28 buildings are under construction, and they will serve as warehouses, showrooms and trader centers.
One of the main goals of the free port is to provide a duty-free area for China's art market, particularly for Beijing, which is home to about 80 percent of the country's art market.
Owners do not have to pay any import taxes as long as they store their collections at the free port. If a piece is sold there, the buyer also doesn't have to pay the value-added tax. The two taxes can increase a work's price by 23 percent.
The first Beijing International Fine Art Fair, which will be held in October, will be among the first events to enjoy the services of the Beijing Culture Free Port. The fine art fair will feature more than 10 pieces of French Impressionist master Pierre-Auguste Renoir.
All of the foreign art at the fair will enjoy duty-free status, says Liu Weihai, project manager of the art trade center at the Beijing Culture Free Port. Liu is in charge of the art fair's duty service.