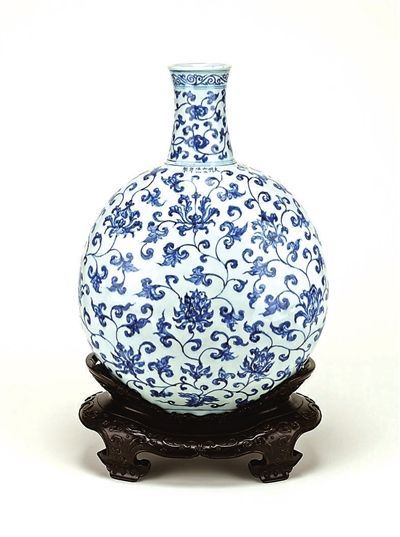 Blue-and-white porcelain ware from the Ming Dexuan period from Jingdezhen, Jiangxi province. [Photo/people.cn]
The exhibition organized by Art Exhibitions China and the British Museum -- Ming: 50 Years that Changed China will be held Sept. 18 - Jan. 5, 2015 at the British Museum in London, to show the history and culture of the Ming Dynasty.
During the Ming Dynasty, China was thoroughly connected with the outside world. Ming Chinese artists absorbed many fascinating influences and created some of the most beautiful objects and paintings ever made.
The exhibition will feature a range of relics, including Chinese painting, sculpture, gold, porcelain and textiles from museums across China and the rest of the world. China is providing 93 groups and 108 pieces of artifacts, many of which are being exhibited outside China for the first time.
At a recent event to launch London's autumn season of exhibitions, Chinese Ambassador to Britain Liu Xiaoming said the exhibition would play a big role and lay a good foundation for the Year of China-UK Cultural Exchange in 2015. "I'm very glad to see that with the backing and support of the community, many Chinese culture related events were held in Britain this year. It is the most valuable way to introduce Chinese culture to the public across the Britain." Liu said.
We Recommend: