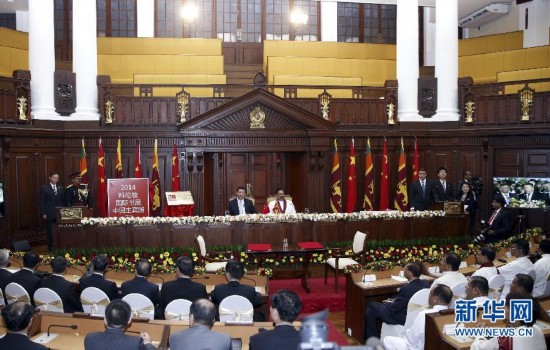 President Xi Jinping and his Sri Lankan counterpart, Mahinda Rajapaksa, inaugurated the Chinese Cultural Center in Sri Lanka and China as the guest of honor at the 2014 Colombo Book Exhibition on Sept 16. [Photo/Xinhua]
Chinese President Xi Jinping and his Sri Lankan counterpart, Mahinda Rajapaksa, met at the Sri Lankan presidential residence on Sept 16 to inaugurate the Chinese Cultural Center during Xi's state visit to Sri Lanka.
As a major move to implement the strategic plan of the Maritime Silk Road in the cultural field, the Chinese cultural center in Sri Lanka is not only the first Chinese cultural center built in South Asia, but also the first overseas Chinese cultural center inaugurated by Chinese and foreign heads of state. The cultural center lies in Bandaranaike Memorial International Conference Hall, an aid project initiated by China. It is the first open cultural center built on the basis of aid project facilities. Tianjin Municipality will cooperate with the Ministry of Culture to undertake the support and guarantee of daily projects in the cultural center.
The establishment and operation of the cultural center marks a new developmental stage of Sino-Sri Lankan cultural exchanges. It will further boost the understanding and friendship of the two countries and play a positive role in deepening their strategic cooperative partnership of mutual assistance and everlasting friendship under the historical background of building the 21st Century Maritime Silk Road.
We Recommend: