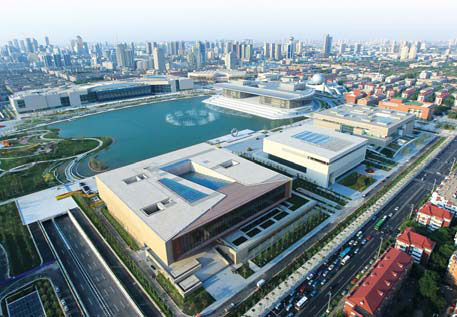 The Tianjin Culture Center is the city's largest public cultural facility.
The largest public cultural facility of North China's Tianjin municipality, the Tianjin Culture Center has been called the city's "living room" and has been open to the public since last May.
With public cultural venues, a city park, a leisure center and an activity space for teenagers, the Tianjin Culture Center serves as an exhibition center of high-end arts and a living area for citizens, popularizing culture and art.
The center has been well received so far. The number of visitors averages 50,000 per day and can be as high as 70,000 to 80,000 on holidays.
"I think it is more beautiful than Sydney Opera House, and I am learning from it," said famous 43-year-old Italian architect Paolo Vincenzo Genovese.
"It not only has an unique style in terms of external structures but also great detail in internal functions, such as a tour route, which shows humanism."
Covering 900,000 square meters, the cultural center is a project that promotes cultural diversity and benefits generations to come. It is composed of the Tianjin Museum, an art gallery, a library, a theater, Sunshine Park and Civic Square as well as a public transportation hub, infrastructure and other supporting facilities.
The center, which took two years to build, has a total floor area of 1 million square meters, while the four cultural venues cover 310,000 sq m.
With a floor area of 14,000 sq m, the Tianjin Museum is a collection and exhibition center of historical relics consisting of 13 exhibition halls, such as the Ancient History Hall, the Treasure Hall and the Calligraphy Hall.
The art gallery is the first comprehensive plastics art museum in Tianjin.
The gallery is responsible for the collection, research, popularization and exhibition of artwork. It includes the Contemporary Art Exhibition Area, the Modern Plastic Art Exhibition Hall, the Multifunctional Art Gallery and the Chinese Art Exhibition Hall.
As a public library with various functions, such as information retrieval, storage, and research, the Tianjin Library (Culture Center) has 6 million books in its collection and offers readers self-serve circulation service around the clock.
Coming from the design idea of "City Stage", Tianjin Theater consists of an opera house, concert hall and a little theater with 3,200 seats. It is scheduled to host more than 300 performances every year.
The high-standard architecture, vivid exhibitions and advanced high-tech facilities allow citizens more convenient access to culture and art.
"A library so advanced that is rarely found, even in Europe," said John, a library user from Sweden.
As an honorary citizen of Tianjin, Kenneth E. Behring, chairman of the Global Health and Education Foundation, has donated more than 200 rare animal specimens worth $50 million to the Tianjin Natural Museum.
We recommend: