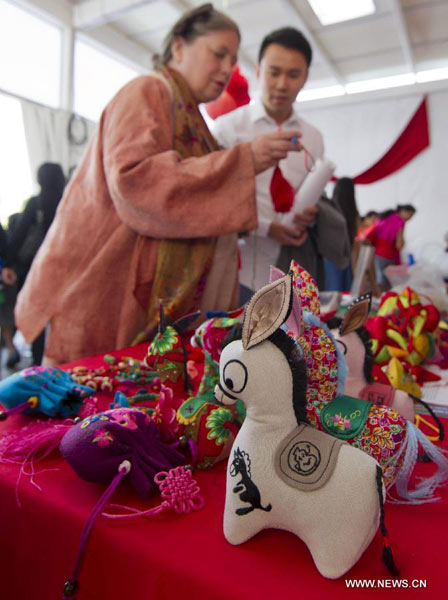 People visit a Chinese sachet booth during the China Now Festival at the Harbourfront center in Toronto, Canada, July 11, 2014. [Photo/Xinhua]
There are people snipping away making paper cuts while singing their traditional Chinese tunes in one corner, and another carving intricate little figurines just a few steps away.
China's rich history was on display in a massive outdoor artisan village set up at Toronto's Harbourfront Center over the weekend for the inaugural China Now festival, an unprecedented exploration of Chinese arts and culture between July 11 and July 13. It is believed to be the largest Chinese folk art festival held so far in Canada.
Highlighting movie and musical premiers, food display, artist talks and the amazing artisan village, the festival is expected to attract tens of thousands of visitors.
The sights, sounds, and even taste of China filled the air with dumpling duels, contemporary music, ethnic dances and much more going on during the three-day event, which is meant to give Torontonians an advantage to engage with China's multifaceted culture.
But the event went beyond just entertaining and showing off some age-old skills. With an opportunity to mingle with over 100 artists from China, Canadians had the chance to gain a better understanding of their dedication toward their crafts and get a glimpse into their lives in China.
At one tent, visitors had the chance to meet 79-year-old Gao Fengliang, her daughter and granddaughter, who have dedicated their entire lives to perfecting their paper cutting skills.
"It's been going on from one generation to the next," Gao's daughter Liu Jieqiong explained. "My mom has been doing it for many years. It's been going from one generation to the next."
Spectators were dazzled by how effortless the trio made it all as they snipped away while singing their traditional Chinese songs. The resulting works of Chinese paper flowers and paper birds after just five minutes of cutting astounded spectators.
"They asked if we have super powers or your scissors are specially made," said Liu.
In fact those skills didn't come easy. Liu's mother has been cutting paper for the last 70 years to get to where she is now. It was always a no-brainer for her to be in this field.
For Liu though, it wasn't until 1995 when she took part in a convention in Beijing that she realized this was what she wanted to do for the rest of her life.
"There was a professor who asked me if I know what paper cutting represented. I said I don't know what it means, isn't it just for decorating windows during New Years?" Liu recalled. "He said that young girl you're wrong, this is the treasure of China's traditional culture which has a thousand year's history."
"When he told me that I thought it was amazing," she said.
In another tent, an artist demonstrated his dough modelling techniques. For the last 50 years, Zhang Baolin has made countless figurines. He just wants to spread the art by sparking interest in the younger generations and hopefully give the older generations living abroad something to reminisce about.
He believes the dough models he creates is the perfect tool to connect the two generations.
"Some of the older generations living abroad, their daughters and sons grew up in other countries, so even though they're Chinese they don't understand the Chinese culture, and they didn't learn the Chinese language," said Zhang. "So the older people can tell stories to children with these models to explain the Chinese culture. Kids like these figurines so it gets them interested to learn about China's culture and history."
Spectators also had the chance to see many other traditional art forms and crafts, like kite-making, puppetry, print-making, and much more from over 100 multidisciplinary artists at the event.
Artists were brought in from over 15 different Chinese provinces in order to highlight the diversity within the country's 56 ethnic groups. The size and scope of the show surprised even the Chinese community.
"What surprised me is actually more than what I saw in China. You cannot see everything in China at the same time, but what they did is they brought all the things that stand for different provinces in China," said festival-goer Rachel Fu. "You can see all, the whole China, all of the regions at one time, so it's really cool. They did a really good job."
Besides the Chinese community, the festival also attracted people of various cultural backgrounds.
"It's fascinating when you look at all the artists and what they're doing, enlightening us to the Chinese way if you will," said Sam Ralph. "Fascinating to see. I just like taking pictures. I was just taking pictures of this chap here. I could see, even though I'm not a creative artist, you can see it takes a lot of work to do it."
Most of the Chinese artists took part in the 48th Smithsonian Folklife Festival in Washington D.C. before heading to Toronto.
We recommend: