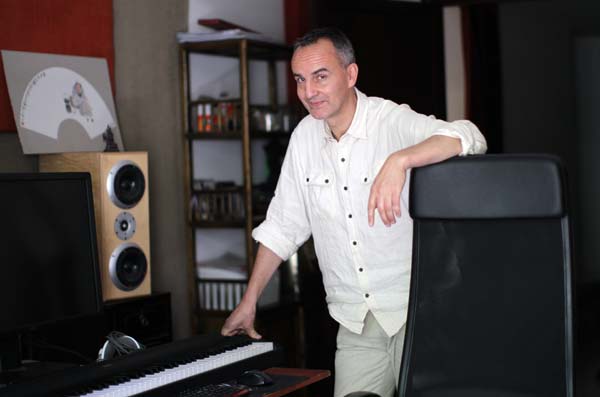 German composer Robert Zollitsch tries to convey his thoughts and emotions through Chinese folk music. [Photo by Zou Hong / China Daily]
A German composer has spent over 20 years researching and writing music for traditional Chinese instruments. Chen Nan talks to Robert Zollitsch ahead of a retrospective performance of his works in Beijing. As the man behind the hit songs performed by his singer wife Gong Linna, including Tan Te, or Perturbed, and Fa Hai - You Don't Understand Love, German composer Robert Zollitsch is widely known in China for his pioneering Chinese folk songs. But the 48-year-old, who has been researching and writing Chinese folk music for over 20 years, says that his chamber music, mixing traditional Chinese folk and orchestral instruments, is a better vehicle for conveying his thoughts and emotions about Chinese folk music.
"Songs can reach millions of people overnight, due to the singer's interpretation and fast spread of the TV and Internet. But chamber music is a complete set of work on its own, which takes time to appreciate," says Zollitsch, who is better known in China as Lao Luo.
For the upcoming concert in Beijing, which gathers together 26 young Chinese musicians, nearly 20 works of the composer will be performed, including Ru Tong Ni Wo, or Like You and Me, which combines the sheng, a Chinese mouth-blown reed instrument, and accordion. The song Dong Tian will be performed on three guzheng (traditional Chinese zithers), and a voice-based musical piece will be performed by five female singers, including Gong.
"There are many performances in China which combine Chinese and Western artists but most of them are dominated by the Western part," Zollitsch says. "With my works, I want to put the Chinese artists and their folk instruments in focus because the audience, including the Chinese audience, rarely knows how beautiful and great those instruments are."
Zollitsch grew up in Munich, Germany, learning the Bavarian zither. When he first heard Chinese folk music, he was impressed by the sounds and rhythms produced by the instruments, which cannot be produced by their Western counterparts.
"I was curious about those instruments and I didn't know why Chinese folk music stopped progressing," he says.
In 1993, he came to China on a scholarship to study guqin (the Chinese seven-stringed zither) in Shanghai. Over the next three years he researched traditional music in the Inner Mongolia and Tibet autonomous regions, while collaborating with a number of Chinese musicians.
We recommend: