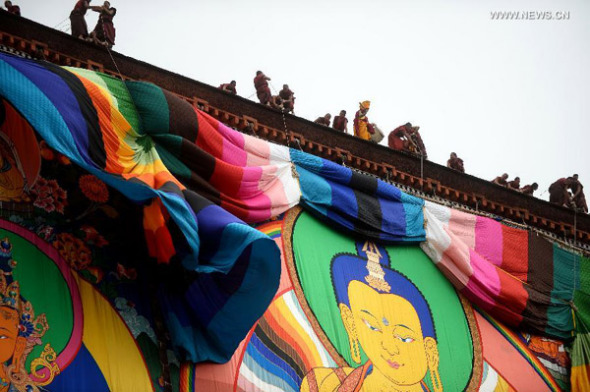 Tibetan Buddhist monks prepare for a Thangka worship activity at the Tashilhunpo Monastery in Xigaze, southwest China's Tibet Autonomous Region, July 13, 2014. (Xinhua/Jin Liangkuai)

It was quite a coincidence that French tourist Claire Gaubert witnessed the unveiling of the Buddha in southwest China's Tibet Autonomous Region on Sunday, the last day of the three-day ceremony.
"It's very impressive and amazing," said Gaubert, 21. "We feel very lucky to witness the religious ceremony."
Gaubert was traveling with three companions -- a fellow French and two Swiss, on a two-week tour across Tibet. The team spent hours on Sunday at the Tashilhunpo Monastery in Xigaze Prefecture.
The annual unveiling of the Buddha, a 500-year-old tradition, is a major attraction at Tashilhunpo.
A new thangka picture of the Maitreya, or the Buddha of the Future, was unveiled at 11:30 a.m. It was 40 meters high, 29 meters wide and sewn from silk by dozens of tailors and painters in seven months.
A new picture is made each year for the occasion of each of the three Buddhas: Buddha Dipamkara or Buddha of the Past, Sakyamuni or Buddha of the Present and the Maitreya, Buddha of the Future.
Thangka pictures of the former two were unveiled Friday and Saturday.
Dozens of monks, clad in maroon robes, chanted sutras in unison as the thangka was unveiled. More than 20,000 pilgrims gathered on the square outside the monastery, holding hada or worshipping the Buddha by crawling on the ground and making long prayers.
"The annual ceremony is aimed at praying for peace and good harvest," said Nyainzhag, deputy chief of the Tashilhunpo Monastery's administrative committee.
At 70, Lhunzhub has witnessed the unveiling of the Buddha at the monastery for many decades. "I wish the Buddha will bestow good luck and good health on all our family members and friends," said the elderly man from the suburbs of Lhasa.
"All is beautiful: the buildings in the monastery and the Buddha display," said Karia Zastrow from Denmark. "It's really touching the heart. We feel a strong religious atmosphere in every place of Tibet we have visited."
The Tashilhunpo, one of the six major monasteries of the Gelugpa, or the "Yellow Hat Sect" of Tibetan Buddhism, is the seat of the Panchen Lamas.
A total of 4.22 million tourists visited Tibet in the first half of this year, including 33,800 international tourists, according to figures released by Tibet's regional tourism administration.
We recommend: