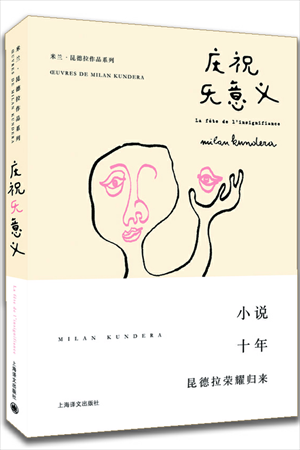 The Chinese version of La fête de l'insignifiance Photo: Courtesy of the Shanghai Translation Publishing House

"Necessity, weight, and value are three concepts inextricably bound: Only necessity is heavy, and only what is heavy has value," Milan Kundera wrote in his book The Unbearable Lightness of Being (1984), a book that never fails to appear on the best-seller list in China whenever a new translated edition comes out.
When describing this author's writings it would probably be best to use the words of the author himself: "Every one of my novels could be entitled The Unbearable Lightness of Being or The Joke or Laughable Loves; the titles are interchangeable, they reflect the small number of themes that obsess me, define me, and, unfortunately, restrict me. Beyond these themes, I have nothing else to say or to write," he said during an interview with The Paris Review.
Although Chinese readers who love Kundera are probably all too familiar with the themes that he touches upon in his books again and again, they always seem willing to slap down money for another story involving these same themes whenever a new work comes out.
Luckily for the fans, the 85-year-old-author is still going strong, in fact the Chinese version of his newest book La fête de l'insignifiance is scheduled to reach stores in August.
Not so insignificant
In keeping with the writer's tendency to keep a low profile, the Italian translation of the novel was published last November - nearly half a year before the original French novel, which was only just published in April of this year. Coming out more than a decade after his previous novel Ignorance (2000) was published in China, this new book is a real surprise for many fans that have been waiting for something new all these years.
The Shanghai Translation Publishing House's Zhou Ran, the editor of the Chinese version, told the Global Times that the publishing house had actually received the transcript before the French edition came out. However, since Kundera is very careful when it comes to the publication of different language versions as well as choosing a translator, the publisher decided to be extra careful and not rush the translation, even making some alterations to their translation after the French version was published.
"The new book is like a concentration of the themes and features that Kundera is famous for, such as his attitude towards totalitarianism, his understanding of memories and forgetting, as well as the meaning of human existence. The structure is also carefully designed, with different chapters echoing each other," Zhou said.
She said that the translator, the 80-year-old Ma Zhencheng, was seen as the perfect choice by even Kundera himself considering Ma's translating experience which includes Les Essais de Michel de Montaigne and many other classical French works.
First translating Kundera's Testaments Betrayed back in the 1990s, Ma feels Kundera's new book is, as usual, a combination of humorous language and serious discussions.
"Many things in our lives are meaningless, but meaningless itself is the nature of life," Ma told the Global Times, adding that this is also why he decided to translate the title La fête de l'insignifiance as Qingzhu Wuyiyi (celebration of meaningless) instead of a more direct "the festival of the insignificant."
Kundera Fever
Kundera has a huge fan base in China. Last century, even before the copyrights for his books were bought by any Chinese publishers, his works had been introduced to Chinese readers through magazines or writers. His works were translated many times, sometimes also from the English versions of his works.
"This also explains why so many Chinese readers love his works so much," said Zhou. In 2003, the Shanghai Translation Publishing House officially bought the copyrights to all of Kundera's books and over the past 11 years have continuously published newly translated versions. So far the decision has been a successful one; for example, The Unbearable Lightness of Being has sold more than 1 million copies since it was republished by the publishing house in 2003.
Yu Zhongxian, a professor at the Graduate School of Chinese Academy of Social Sciences as well as a writer and translator, told the Global Times that most Chinese readers are interested in Kundera mainly due to his writings about the Czech Republic.
Yu finds that since the historical experiences, social lives and many other aspects about the Czech Republic depicted in Kundera's books show some similarities to what happened in China, many Chinese readers feel a connection when reading his works.
Moreover, his ability to write about heavy topics in a delightful way is also one strong characteristic that has attracted many readers here.
While admitting Kundera was a great writer, Yu also pointed out that Kundera's French fiction works, written in his second language, are generally not as brilliant as the ones he has written in Czech.
"Kundera reminds me of another Czech writer Bohumil Hrabal (1914-97)," Yu said, going on to explain that Hrabal also wrote about life in the Czech Republic, but differing from Kundera his writings are more closely related to the people there.
"I think Hrabal is probably more easily accepted in the Czech Republic, whereas Kundera is more accepted by international readers," said Yu, adding that if he had to make a comparison, the situation of Kundera and Hrabal in the Czech Republic is very similar to that of Nobel Prize winning authors Gao Xingjian and Mo Yan in China.
He pointed out that Mo Yan, who writes about everything that happens in his hometown is more likely to become popular in the Chinese market than Gao Xingjian, who lives outside China and whose works target mainly Western audiences.
A changing attitude
Although, the popularity of Kundera's books has yet to fade away, people have experienced a "love and hate" relationship with his work.
Back when Kundera's works were first introduced to China, many young people in the country felt that to be qualified as a book lover of taste, writers such as Marguerite Duras, Haruki Murakami and Kundera were must-reads.
However, as Kundera became increasingly popular, those readers who wanted to be different than everyone else started to turn away from his works. However, in the end the excellence of the author won through and they ended up returning to his work.
Culture critic Leung Man-tao has described many times publicly how he himself went through a similar phase.
"I stopped reading Kundera for a while, but after finally returning to his books again after a while, it was a new reading experience and new ideas were able to come through," said Leung.
We recommend: