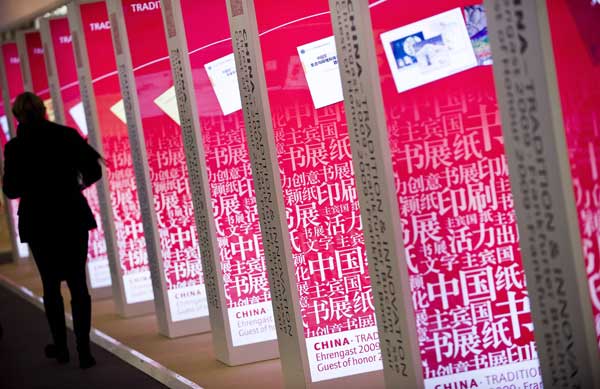 Chinese publishers have stronger presence at international book events. China was the guest of honor at the Frankfurt Book Fair in 2009. [Photo provided to China Daily]

The Frankfurt Book Fair has big plans for China and the rest of Asia as publishers work to break down language, cultural and business barriers. Chen Yingqun reports.
In an age when machines do translations almost instantly, it may seem that publishing books in multiple languages around the world could be done at the snap of a finger. While the works of prominent authors easily jump linguistic and national boundaries - like those of 2012 Nobel literature laureate Mo Yan - that's not necessarily so in other cases. Many authors and publishers who aspire to sell their books internationally face hard-to-solve cultural differences and a lack of qualified human translators.
Publishers in China and other countries are eager to communicate more and develop good working relationships, but they still have a long way to go, says Juergen Boos, president of the Frankfurt Book Fair.
Boos was in Beijing recently attending StoryDrive Asia, a gathering dedicated to exploring new forms of collaboration and business models across media boundaries. The Frankfurt Book Fair is a lead organizer.
Chinese publishers in the past few years have been more willing to talk to their overseas counterparts about difficult topics, a big change since it was difficult to even think about working together before, according to Boos.
"There were language barriers, copyright issues and an issue of not trusting each other because nobody knows about each other. But now the network has been growing."
We recommend: