The Qingdao 2014 International Horticultural Expo is underway, with representatives from the world over descending on this east China coastal city to showcase their cultures and values. Friday marks Ceramic Culture Day in the South Korean Pavilion, as artists from the country heat up the atmosphere by putting on outdoor shows. It also coincides with Chinese President Xi Jinping's state visit to South Korea.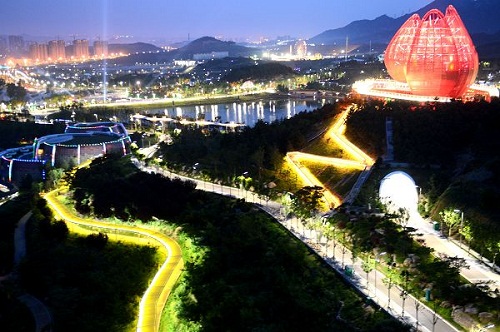 Qingdao Int'l Horticultural Expo in full swing [Photo/CCTV.com]
South Korean artists, dressed up in their traditional attire, perform Korean folk tunes. The musical instruments employed by the ensemble range from gongs to drums in different shapes and sizes. The percussion music genre is known as Samul, which translates as Four Objects. As a Chinese expert of Korean ethnic minority culture explains, each of the objects symbolizes a sacred supernatural being.
"The Four Objects are actually four different musical instruments symbolizing the Gods of Heaven, Earth, Clouds and Wind. Korean people love to get together and sing and dance to the beats, to celebrate a bumper harvest that Mother Nature brings," said Lin Xunri, a member of Korean Teachers Association.
Apart from the music performances, a ceramic artist from the city of Icheon demonstrates the process of making pottery.
The ceramist says Icheon is celebrated for its quality ceramic manufacturing. Many of its products have become sought after works of art, making Icheon the largest center for South Korean crafts.
The 2014 Qingdao International Horticultural Expo runs until October.
We Recommend