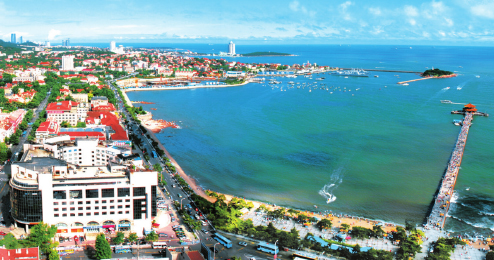 CHINA DAILY
A colorful city with azure sky and red tiles provides livable environment for citizens
Qingdao has been famed as a tourist destination and health resort since the 1920s.
Its white beaches, European style architecture, well-preserved heritage and sacred Laoshan Mountains overlooking the sea have long attracted tourists from across the globe.
Now one of China's major ports with a population of about 8 million, it is reputed to be one of the nicest places in the country to live and visit.
"Qingdao is an internationally oriented city with an abundance of attractions and sophisticated tourism industry," said the city's vice-mayor Liu Mingjun.
A total of 62 million tourists visited the city last year, generating 93 billion yuan ($14.93 billion) in tourism revenue.
During the International Workers' Day holiday in May this year, the city welcomed 3.3 million visitors, up 25.2 percent from the same period last year.
"Every aspect in the city can be attractive to tourists," he said. "The symbol of a city's competitiveness is that foreign tourists are willing to stay there."
Badaguan Scenic Area
Well known for its garden villas and western-style buildings, the Badaguan scenic area has been termed a "world expo of architecture".
With year-round blossoms and greenery, it is appealing for strolling or driving around and sightseeing at any time. Built during the German concession, it is testimony to Qingdao's century-old evolution. Many young couples are also fond of the area as a wedding photo backdrop due to its fairytale-like castles.
Largest beach
Recognized as the largest sandy beach in Asia, and the best in Qingdao, the No 1 Bathing Beach is appreciated for its soft sand and clear waters.
Located by Huiquan Bay and surrounded by green mountains, the beach provides the full range of services visitors and holidaymakers want, from lockers to restaurants.
During the hottest months of July to September, many arrive from nearby regions and provinces, but No 1 is big enough never to feel overcrowded. There is room for 200,000 people every summer.
Maritime Sports
Today the city is China's capital of sailing, with a thriving water sports industry. It also has been host port for many world class sailing events including the 2008 Olympic Sailing Games and Clipper Round the World Race, and Volvo Ocean Race.
We recommend: